Canadian pop sensation Justin Bieber, who is currently on UK tour, turned 19 years old on 1 March. The Baby singer was spotted shirtless while returning to his hotel in Central London.
"gonna chill and get ready for this show. last show as an 18 year old," he tweeted before the concert, later adding, "Great show!!! Now gonna go celebrate 19!! Thanks,"
According to report in Mirror, the Believe singer is planning for a circus-themed party at a London venue.
"Justin wants to celebrate in style and he loves clubbing in London," a source said, "It's no accident that there's a break in his UK tour, which coincides with his birthday. He's been looking for the perfect venue and finally settled on Cirque Du Soir as he loves the kitsch theme. The venue is all ready for him, with clowns, goblins, aerial acts and some fire-eaters."
His rumoured new girlfriend British singer and model Ella-Paige Roberts Clarke is expected to be at the bash too.
Meanwhile, his fans continued to shower wishes on Twitter.
''@iBiebsGlasses Dear Justin Bieber'' ''1st of March'' and ''#HappyBirthdayJustinFromBeliebers'' are ALL trending. I'm so so so proud
"@sassydrewbiebs Happy birthday to my favorite boy @justinbieber I am so proud of you!! It's amazing to see how much u..."
"@selenaownsus Dear Justin Bieber thank you for being so true to us! You're amazing!! Thank you for being such a great rolemodel! Happy Birthday!"
"@MyBelieveTour Dear Justin Bieber, thank you for being the reason of our smile. We love you. #HappyBirthdayJustinFromBeliebers"
"@janothebieber 1st of March our hero,our idol,the reason behind our smiles,the reason of our existance,Justin Bieber was born. It's a special day to us."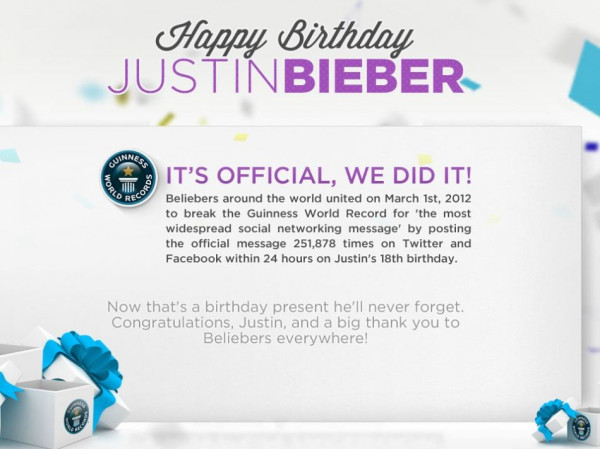 Last year, a website called Happy Birthday Justin Bieber was created after his fans supposedly broke the Guinness World Record for "the most widespread social networking message" by posting birthday wishes 251,878 times on Twitter and Facebook within 24 hours on his birthday.
Take a look at the birthday boy pictures...