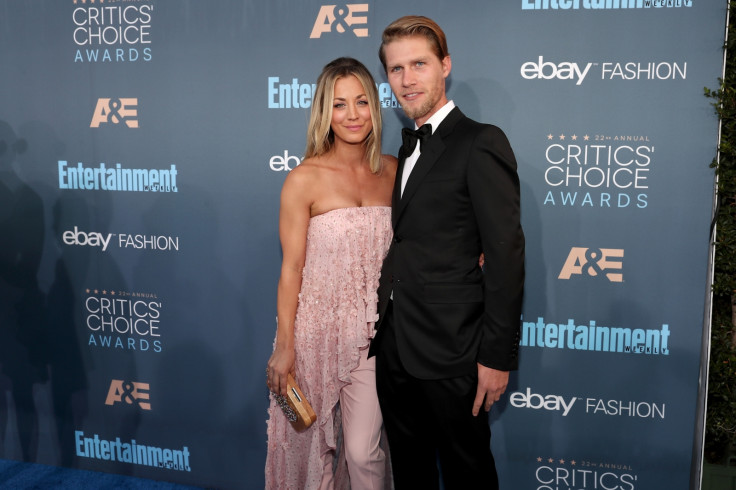 Kaley Cuoco and Karl Cook are an adorable couple and their goofy posts on social media prove how much in love they are. Cook took to Instagram to post a photo of The Big Bang Theory star lazily lying down in bed, still in her equestrian outfit on and surfing her phone.
Cuoco is wearing high boots teamed with trousers and a white shirt. The professional rider captioned the snap saying, "After a long day at the show Kaley makes herself at home in bed. @normancook." His girlfriend responded to the post and adorably replied, "I hate you."
Later he posted another image with Cuoco, where they are seen taking a nap in their couch and the caption reads, "After a long day looking after shmooshie this is the result. She is such a goddess in all her rotundity. @lifewithshmooshy @normancook." The Penny actor's comment on the post was: "Honey. Are you calling me rotund."
Fans loved their charming post, with one calling them the "Cutest couple. Hands down!!"
Another fan commented, "I love following the two of you. My 14 year old daughters have started riding with the hopes of jumping some day. You both make it look beautiful and effortless. Which I know it's not. So thank you both and keep the posts coming."
"I love that you guys are so normal and post these pics. K looks just like your typical horsey girl here..." noted another follower.
The couple who have been dating since 2015, adopted an adorable dwarf mini-horse called Shmooshy back in May. The mini-horse has her own Instagram account with almost 39,000 followers and the bio reads, "I'm a rescued dwarf mini excited for a glam filled future."