Police investigating the disappearance of 24-year-old student Karen Buckley have arrested 21-year-old Alexander Pacteau, the man who was filmed on CCTV leaving a Glasgow nightclub with her at the weekend.
Pacteau had admitted to police driving Karen back to his flat and being intimate with her on the night she disappeared, but he claimed she left his flat at around 4am to go home. Initially police said he was not being treated as a suspect.
However following the discovery of Karen's handbag in Dawsholm Park on Tuesday (14 April) police launched a major search of the park using helicopters, sniffer dogs and divers.
Speaking before her son's arrest, Pacteau's mother Noreen, 43, told the Daily Record her son was not a suspect.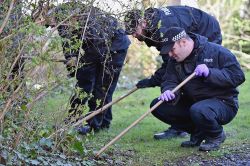 "As you can tell by the police reports, he is not a suspect," she said. "She left his property at four o'clock in the morning and she was seen by other witnesses, not Alexander. So he is not a suspect."
However this evening (15 April) Strathclyde Police said they had arrested Pacteau. The remote High Craigton Farm near Milngavie just outside Glasgow has also been searched and the lane cordoned off. Officers have also been seen at a nearby golf course. A police spokesman said: "Officers are following a definite line of enquiry."
Karen, a former trained nurse, moved to Glasgow to begin a Masters Degree in occupational therapy, sharing a flat with three other students in Garnethill. She is well-travelled and described as "aware of how to take care of herself".
Karen's parents have flown from Cork in Ireland to appeal for information into their daughter's disappearance, and her brothers have also flown in from as far away as Australia.