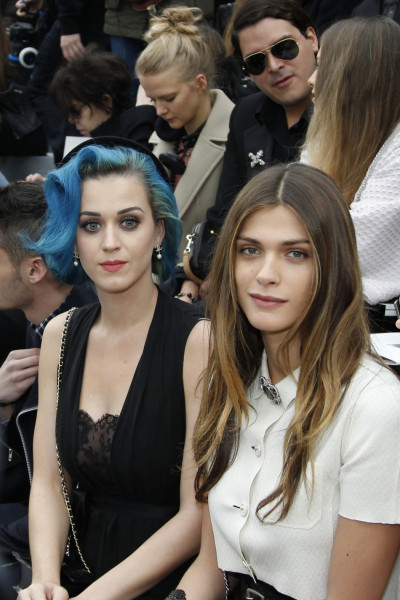 From Katy Perry to singer Alicia Keys... it was a superstar event at the Chanel Fall/Winter show at the Paris Fashion Week.
Designer Karl Lagerfeld completely transformed the ornate Grand Palais, into a crystal fortress with huge spears made of mock-crystal filling the exhibition space.
Models with crystal eyebrows and dressed in Lagerfeld's creations and clear heels of shoes walked the ramp while stars like Joana Preiss, model Caroline de Maigret and Katy Perry lit up the front row during the event.
The creations mainly included faux tweeds, pencil-thin cropped trousers, flared skirts and jackets combined to give a dramatic effect.
According to the New York Times, for the current season, the crystals, with their predominantly mauve colors or tinged with green, were inspired by a three-dimensional, faceted art image that "juiced" Lagerfeld's imagination. There were many other references to prisms as well chiffon dresses streaked with diamond shapes in soft colors or sweaters with patterns that both followed the current feeling for geometry and had a graphic quality of their own.
For the evening wear, designs comprised dark autumn shades dresses with feather-embroidered necklines, ruffed necklines and looser skirts.
The collection is reportedly one of the most layer-emphasised this season and is reminiscent of the New Romantics era of the 1980s.
"Paris is about layers, so I didn't use any fur," CBSNews quoted Lagerfeld saying, while standing next to a crystal shard in cold gray.
Lagerfeld is regarded as one of the most creative designers in the fashion industry. In the past, he has collaborated on a variety of fashion and art related projects, most notably as head designer and creative director for fashion house Chanel. Lagerfeld has his own fashion house, as well as the Italian house Fendi.
Start the slideshow to get a glimpse of the star-studded Chanel show at the Paris Fashion Week: