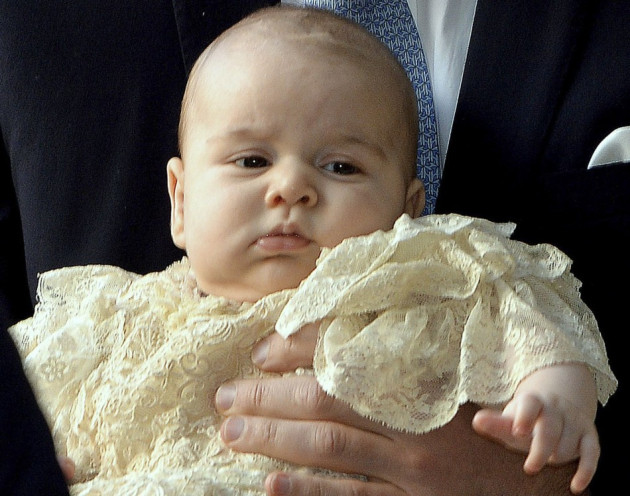 Prince George, the first child of Kate Middleton and Prince William, is barely four-month-old but the royal baby has apparently got someone inspired at home; it's none other but his grandfather, Prince Charles.
The third-in-line to the British throne, George inspires the Prince of Wales to conserve the Nature, the heir to the throne revealed during his ongoing India visit.
At the first leg of his tour of the country in Rishikesh, Prince Charles said how his grandson, Prince George, who was born on 22 July, had reinforced his view on working to help preserve the planet.
"It seems to me the key to our future is to rediscover our connections with nature, for too long we seem to have ignored the services that nature provides us," the prince, who will turn 65 on 14 November, said.
"And now that I've just recently become a grandfather, I think it means even more when you have a grandchild to think of their future and all the futures of other grandchildren around the world," he added.
"We owe them I think something a great deal better for their futures as well."
Prince Charles and Camilla are on a nine-day visit to India to promote the strong UK-India partnership in key areas such as conservation.
"It seems to me that there could hardly be a more important endeavour than the task of conserving the world's remaining forests, and it is my fervent, but often frustrated hope that leaders and communities around the world will recognise the urgency of ensuring their protection over the years and decades ahead," Prince Charles said during his visit to the Forest Research Institute in Dehradun.
The Prince of Wales' India trip is also designed to foster partnerships in areas such as education, business, women's empowerment and training.
Next, Charles and Camilla move on to Sri Lanka on 14 November. In Colombo, Prince Charles will represent the Queen at the 2013 Commonwealth Heads of Government Meeting (CHOGM).