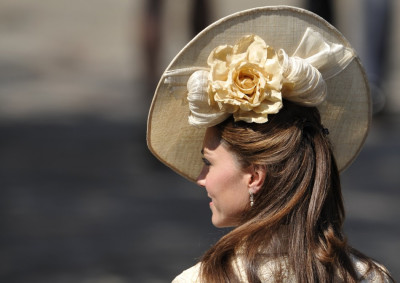 Kate Middleton has undoubtedly become a rather stylish fashion icon and trendsetter since her marriage to Prince William on 29 April. The young Duchess of Cambridge has inspired a surprisingly large number of people and fashion styles across the world; her most talked about style-statements, though, are her usually hats and her clutches.
As the first anniversary of Prince William and Kate Middleton approaches, we take you back through some of the more memorable hat-and-clutches moments in the Duchess of Cambridge's year gone by.
We begin with William and Kate's visit to Canada, for which, according to the Globe and Mail, the young royal wore a Sylvia Fletcher in red. Meanwhile, when the royal couple visited the Canadian town of Calgary, along with Prime Minister Stephen Harper, to see the Calgary stampede, the residents of the town presented her with a 10-gallon hat. The next stop on the hat-tour is the "Mission Serve: Hiring our Heroes" event in California, US; she wore an outfit and matching clutch from Whistles in Kensington. Also memorable was a simple LK Bennet clutch she showed off at a polo game in Santa Barbara, in July. For the reception after the game, she was seen holding a Diane von Furstenberg printed clutch. The clutch was in contrast with the green dress she wore. She chose another LK Bennet piece, to match her simple grey and white dress, for her ride to the Los Angeles Airport, at the conclusion of the US-Canada trip.
A truly iconic hat, though, was the Gina Foster Millinery piece she wore, on 30 July, for Zara Philips' wedding in Edinburgh - the hat had a cream-coloured flower curling out of the brim. She also wore a Gina Foster hat and carried a beautiful LK Gennet clutch later in the event. Kate was also present at the Baftas, for which she carried a glittering Jimmy Choo clutch.
According to the Style Bistro, the clutches used by Kate can be classified into beaded clutches, box clutches, envelope clutches and hard case clutches. In terms of her style sense in hats, she is seen mostly opting for decorative hats. Kate does not fail to accessorise herself with hats and clutches irrespective of the dress she wears. So the bottom line is that her choice of hats and clutches is what makes Kate a fashion icon.
Start the slideshow to see Kate's hats and clutches