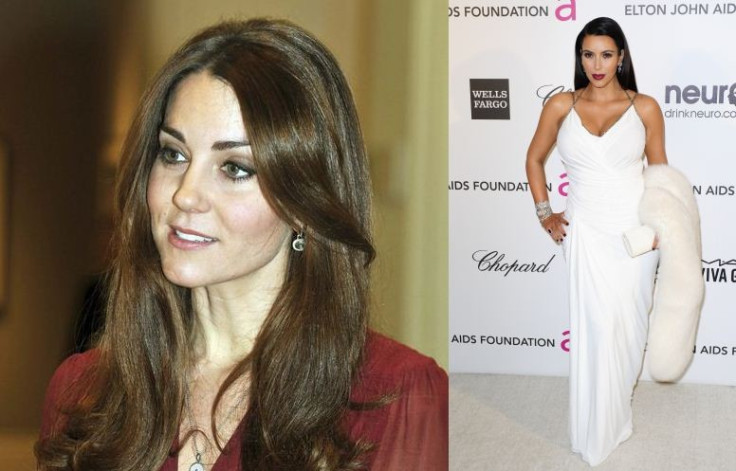 Catherine Middleton, the Duchess of Cambridge, is reportedly a big fan of Kim Kardashian's reality show Keeping Up with the Kardashians. The 31-year-old pregnant royal allegedly began watching the show after she learned that Kanye's West's girlfriend is a big fan of hers.
"Ever since Kim started mentioning Kate a lot in public, the Princess has started watching Keeping Up With The Kardashians religiously," a source said, "She thinks the family are hilarious. People forget that Kate is just a normal girl, who married into royalty, and enjoys the same trashy TV shows most people do."
However, Prince William has been "making fun" of her new obsession.
"Will doesn't watch the show with her, and makes fun of her for liking it so much. It doesn't bother Kate, though. She finds it relaxing, and is flattered Kim keeps speaking so highly of her," the insider added.
It was recently reported that Kim Kardashian had sent the duchess a maternity gift because she was so excited to learn they are both expecting their babies in July.
"When Kim found out the pair had similar due dates, she got incredibly excited," an insider said, "She had her PA write a kind, warm note to Kate, enclosing a gift for the future heir to the throne and explaining they were both due in July."
Previously it was reported that West has asked Kardashian to be more like Kate Middleton and follow her elegant English style. Kardashian's makeup artist Rob Scheppy, had also spoken about her classical grace.
Meanwhile, Kate Middleton was recently spotted on two-day official trip to Scotland along with Prince William.
On day one, she wrapped up her growing baby bump underneath a tartan coat from Gloucestershire-based brand Moloh and combined it with tall black boots by Aquatalia by Marvin K. The next day, she stunned all in the same red Armani coat she wore in 2006, at William's passing-out parade from Sandhurst.