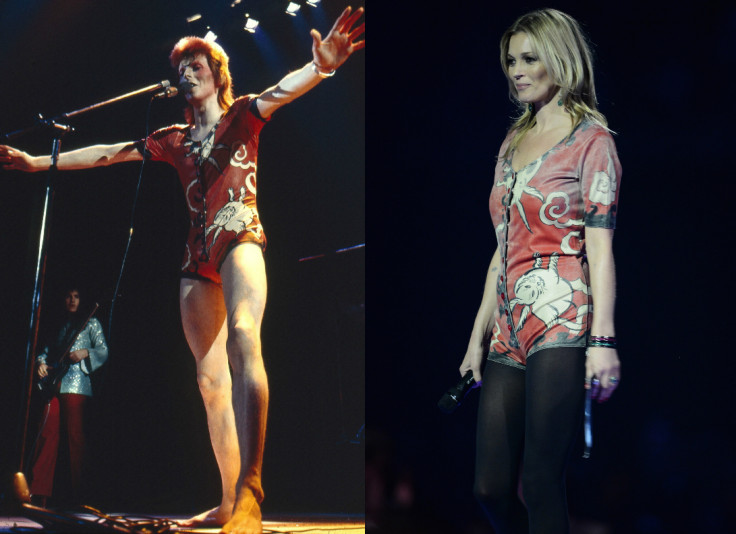 Kate Moss may have channelled late music star David Bowie in many of her high-fashion spreads, but when it came to wearing his actual stage costumes, the supermodel – known for her slim physique –struggled.
The 42-year-old star has revealed that despite her svelte figure, an outfit once donned by the late David Bowie was too tight. During her appearance on BBC Radio 6 Music's Shaun Keaveny show, she revealed that Bowie was just as surprised by the snug fit.
Moss was enlisted to accept Bowie's British Male Solo Artist Brit award in February 2014 and took to the stage in an original Ziggy Stardust stage all-in-one, designed by Kansai Yamamoto.
He originally wore the garment while appearing at London's Rainbow Theatre in Finsbury Park in August 1972.
Discussing her experience, Music News host Matt Everitt asked as if the claims that Bowie was so slim that even getting into his clothes was a squeeze.
Moss quipped: "Yeah, it didn't fit me... And I loved it as well."
She went on to add that the next time they saw each other he couldn't help but tease her: "When I saw him after that he was like 'mmm, I heard the clothes didn't fit.' All right, rubbing it in."
Bowie passed away on 10 January 2016 – two days after his 69th birthday – following a secret 18-month battle with cancer. Hours later, Moss paid a sartorial tribute to her close friend and frequent collaborator by stepping out in a to black and white T-shirt emblazoned with the late performer's face.