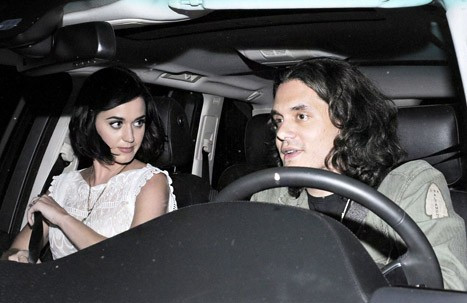 Katy Perry has fuelled speculation that she is dating John Mayer, Jennifer Aniston' former lover, after the pair were spotted on a dinner date.
According to reports, the couple were seen enjoying a romantic meal together at LA's Pace Restaurant before heading to the Chateau Marmont Hotel.
A source told Us Weekly that the date was "definitely romantic" and that the pair were "holding hands across the table, sneaking kisses and laughing".
However, the 27-year-old singer is reportedly keen to take things slowly following her public split from British comedian Russell Brand.
A friend told the magazine. "They're just hooking up right now. It's not serious - yet."
The Wide Awake hitmaker, whose divorce from Brand was finalised last month, has also been linked to Florence + The Machine guitarist Robert Ackroyd.
She recently told US Elle: "I'm a woman who likes to be courted, strongly. Never say never, I guess you'd say. I'll let love take the lead on that."
Mayer's other A-list exes include Jessica Simpson, Lindsay Lohan and Taylor Swift.
Swift, who dated the singer-songwriter in 2009, allegedly penned a revenge song titled Dear John after he broke her heart.
One verse of the track, which featured on her bestselling 2010 album, Speak Now, includes the lines: "Well, maybe it's just me and my blind optimism to blame/Or maybe it's you and your sick need to give love then take it away/And you'll add my name to your long list of traitors who don't understand/And I'll look back and regret how I ignored when they said run as fast as you can".