Kelvin Mackenzie, the former editor of The Sun, is to leave the newspaper after penning a controversial column about Everton footballer Ross Barkley.
He was suspended after comparing Barkley, who is of mixed race, to a gorilla and making disparaging comments about the city of Liverpool.
News UK, the parent company of The Sun, is now in exit talks with MacKenzie, the Financial Times reported on Monday (8 May).
"Kelvin will not be employed by News [UK] for much longer," an unnamed source involved in the talks told the FT, adding that the terms of the exit deal could be agreed within the next week.
MacKenzie wrote in his column on 14 April that he was not surprised Barkley, whose grandfather is Nigerian, was punched in a nightclub because the 23-year-old footballer's eyes had given him a "similar feeling when seeing a gorilla at the zoo".
Next to the article was a picture of a gorilla, beside a photograph of Barkley.
MacKenzie also wrote the only other people with "similar pay packets" to footballers in Liverpool were "drug dealers".
The fallout saw Liverpool's mayor, Joe Anderson, report MacKenzie to the police for what he claimed were "racial slurs", and Everton ban journalists from The Sun entering its stadium. Merseyside police are continuing their inquiries into the incident.
The column prompted an apology by The Sun, saying the newspaper had been "unaware of Ross Barkley's heritage and there was never any slur intended".
MacKenzie said the outcry over his comments was "beyond parody", adding that he too had "no idea of Ross Barkley's family background".
News UK is part of Rupert Murdoch's News Corp. MacKenzie's impending departure comes as 21st Century Fox, also controlled by the Murdoch family, attempts to acquire the 61% of European pay-TV broadcaster Sky that it does not already own.
The regulator is currently weighing whether Fox is a fit and proper owner of a British broadcasting licence and whether the £11.7bn bid would give Murdoch too much control over the British media.
MacKenzie's departure could be part of efforts by Murdoch to clean up the public image of his companies after a previous bid to buy Sky failed due to the phone-hacking scandal.
There have already been high-profile departures at Murdoch's Fox News, with chairman Roger Ailes and star presenter Bill O'Reilly both forced out following a string of sexual harassment claims from women associated with the cable network.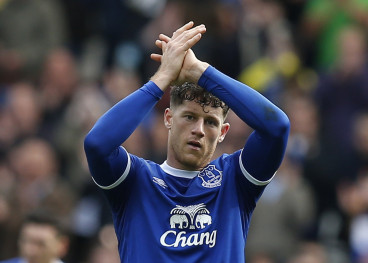 The allegations have threatened to spread to the UK. On Monday, Wendy Walsh, one of O'Reilly's alleged victims, met UK media regulator Ofcom to call for Fox to be blocked from taking full control of Sky.
Lawyer Lisa Bloom, who is representing Walsh and three other women who allege sexual harassment or discrimination at 21st Century Fox, said Ofcom should rule that Murdoch would not be a "fit and proper" owner of Sky.
"It's phone hacking part two," she said. "As with phone hacking in the UK, this Murdoch-owned company has stood by senior staff they knew had acted illegally or immorally. By my count Fox News currently faces lawsuits filed by 19 different employees alleging sexual and racial harassment and retaliation.
"We want the British regulator to understand the corporate governance failures at that company. We both very strongly believe that Fox should not be allowed to take full ownership of Sky."
Extract from Kelvin MacKenzie's column in The Sun
"Perhaps unfairly, I have always judged Ross Barkley as one of our dimmest footballers. There is something about the lack of reflection in his eyes which makes me certain not only are the lights not on, there is definitely nobody at home.
"I get a similar feeling when seeing a gorilla at the zoo. The physique is magnificent but it's the eyes that tell the story.
"So it came as no surprise to me that the Everton star copped a nasty right-hander in a nightclub for allegedly eyeing up an attractive young lady who, as they say, was 'spoken for'.
"The reality is that at £60,000 a week and being both thick and single, he is an attractive catch in the Liverpool area, where the only men with similar pay packets are drug dealers and therefore not at nightclubs, as they are often guests of Her Majesty."