Kim Kardashian has stripped off again for another naked selfie. And this time she has company.
The reality TV star caused a social media storm earlier this month after she posted a pre-pregnancy throwback photo of herself posing in her bathroom, with only black bars protecting her modesty.
The Keeping Up With the Kardashians star faced a public backlash for the picture, but showing her defiance in the face of public criticism, she posted another. But this time she was joined by model and actress Emily Ratajkowski for the topless shot in a show of solidarity.
Replicating the original snap, complete with strategically placed black bars, they posed together in a mirror in a bathroom, giving the finger to their detractors. While Kim joked about the picture and said: "When we're like...we both have nothing to wear LOL @emrata," the Blurred Lines star added a message explaining that the naked images are an expression of sexuality and promote body positivity.
She wrote: "However sexual our bodies may be, we need to hve the freedom as women to choose whn & how we express our sexuality. We are more than just our bodies, but that doesn't mean we have to be shamed for them or our sexuality. #liberated." She continued: "Even if being sexualized by society's gaze is demeaning, there must be a space where women can still be sexual when they choose to be."
Kim Kardashian faced charges of objectifying women, after she posted a nude selfie on social media on International Women's Day. The photo prompted a stern reaction and she unwittingly found herself engaged in a war of words with Bette Midler, Piers Morgan and Chloe Moretz, who each criticised the 36-year-old for stripping off for attention and accused her of setting a bad example for young women.
Singer Pink also turned on the Keeping Up with the Kardashians star, as she urged her fans not to use their "t**s and a**es" to get "attention" in a lengthy diatribe. Surprisingly it was former love rival Amber Rose who stood up for Kim. "Let's let the naysayers know u are so much more then a sex tape (13 years ago) f*** it own it. Ur a mom and a business woman, a wife, sister and daughter. Hope we can make this happen #AmberRoseSlutWalk2016," she wrote.
Meanwhile outspoken singer Miley Cyrus entered the discussion, urging the women not to tear each other down. Kim's sister Kylie also showed her support, posting her own bathroom photo wearing a black bikini to replicate the contentious image and describing her sister as "a legend."
Bette Midler had perhaps the best response after she found herself caught in an Twitter spat with the mother-of-two. The actress unwittingly found herself caught in a row with the Keeping Up With The Kardashians star, after she posted a comic reaction to her naked selfie. "Kim Kardashian tweeted a nude selfie today. If Kim wants us to see a part of her we've never seen,
she's gonna have to swallow the camera," she joked.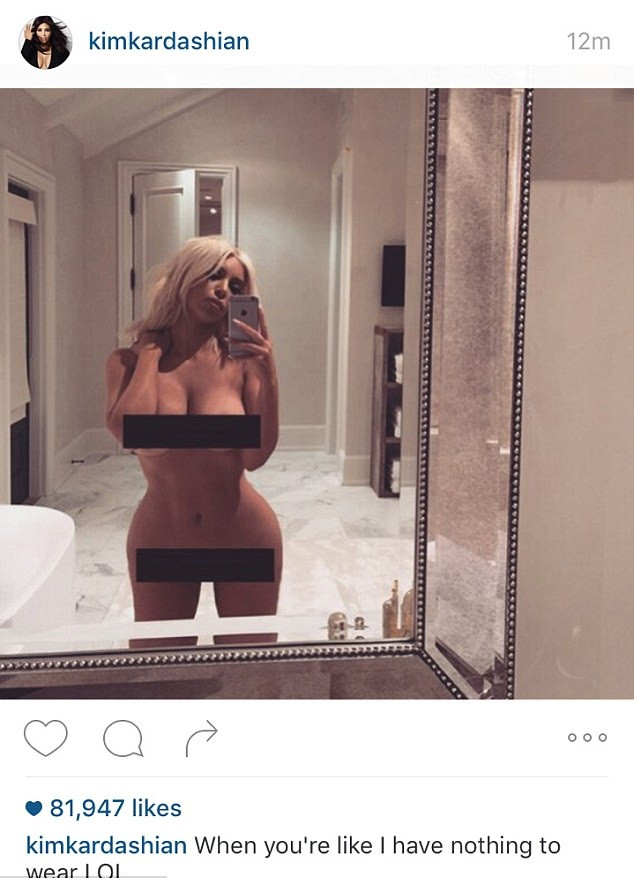 Taking up Kim's subsequent challenge to "send nudes" she posted one of her own for charity. The 70-year-old used the Twitter feud to raise money for a good cause, as she posted a digitally enhanced photo, showing her seemingly standing in lingerie in her bedroom behind a cardboard sign in which she addresses the reality star directly.
Following the furor around the naked image Kim penned an essay for her subscription-based website and defended her decision to share the controversial naked photo. "It always seems to come back around to my sex tape," she wrote. "Yes, a sex tape that was made 13 years ago. 13 YEARS AGO. Literally that lonnng ago. And people still want to talk about it?!?!"
While Kim clearly won't be told to keep her clothes on, the reaction to the selfie was also unrelenting.
In another scathing attack Piers Morgan tweeted his reaction to the picture and said: "Just a thought @KimKardashian @emrata - but you could always try wearing a little dignity?"
Chloe Moretz, Pink and Better Midler are yet to offer their reactions. It remains to be seen whether the picture will divide the Twitterverse or whether Kim K manages to break the internet yet again.