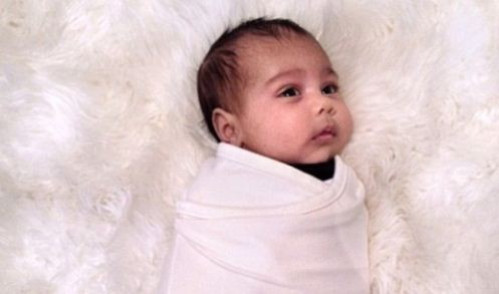 American reality star Kim Kardashian has shared a second picture of her daughter North West to the world.
Kardashian and her Beau, Kanye West were in Paris for the fashion week and she shared the snap on her Instagram account with the caption: "I missed my little angel!"
The first picture of North West was shared on Kardashian's mother, Kris Jenner's talk show, Kris by Kanye West.
It is reported that Kardashian is sort of reinventing herself by employing style icon Sarah Jessica Parker's team.
"Kim wants to be seen as sophisticated, as high-end and fashion, not the girl who made a sex tape and is famous for being famous," a source close to Kardashian told NaughtyButNiceRob.com.
"Kim is trying to buy her reinvention by employing SJP's team," the source added.
Kardashian recently fired her long-time publicist, PMK's Jill Fritzo, and hired Sarah Jessica Parker's publicist, Ina Treciokas.
Of late, she has been using Jennifer Lopez's styling team Rob Zangardi and Mariel Haenn as well. The reality star also dyed her locks blonde. Even at the fashion week, Kardashian displayed an unusual style, not typical of her.
According to sources, Kardashian has been working hard to make it to the cover of Vogue and she thinks that looking like Parker may get her there.
"She is trying to buy her reinvention by employing SJP's team," the source is quoted as saying.
She is reportedly even looking to hiring SJP's stylist, hairdresser and makeup artist.
She is also all set to appear in an upcoming episode of the animated show, American Dad. Kardashian will reportedly play a furry alien who crash lands in Langley Falls.
The new season of the show airs from 29 September and Kardashian's episode will be a part of that. She apparently falls for extra-terrestrial Roger in the episode.
This is one of Kardashian's first projects after giving birth to her daughter in June.