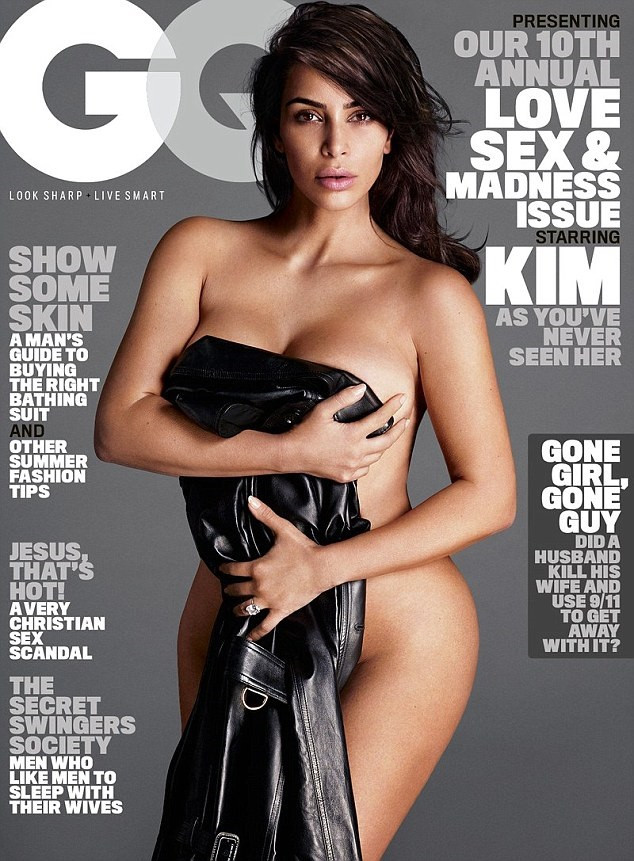 Kim Kardashian-West has stripped off again. The reality TV star, who is known for her naked selfies, has gone nude for the cover of US GQ.
Less than six months since she gave birth to her second child Saint, the 35-year-old has been showing off her post-baby body in a shoot for GQ's tenth anniversary issue which promises to capture the TV star "as you've never seen her before".
The mother-of-two put her curves on display for the cover image in which she is seen posing wearing nothing but her diamond engagement ring while holding a strategically placed leather jacket to protect her modesty.
In a series of smouldering shots in her first ever US GQ shoot, The Keeping Up With The Kardashians' star dons thigh-high boots and a racy sheer body suit as she poses in a vintage car.
Another image, taken by photographers Mert Alas and Marcus Piggott, shows the entrepreneur wearing a bra stockings and an overcoat Mail Online reports. Writing on Twitter about the shoot she said: "This was seriously a dream come true!!!!"
Earlier Kim revealed she has lost 60lbs (27kg) in six months as a result of a gruelling exercise and diet regime that sees her hitting the gym daily at 6am and following a low-carb Atkins diet.
She told People she wants to drop another ten pounds to reach her goal weight of 120lbs (54kg). "My butt and my hips are the last to go, but I'm not stopping!"
In January, Kim sent Twitter into a frenzy after she posted her first post-pregnancy selfie with sister Kourtney. Fans speculated that she may have had some work done during her time out of the public glare. "What's up with Kim's face?" wrote one person. with many crediting her changed appearance to Botox. Another commented: "Post Botox Kimmyyyy?????"
Either way, the self-professed selfie Queen, who has built an empire on her image, shows no sign of covering up anytime soon.