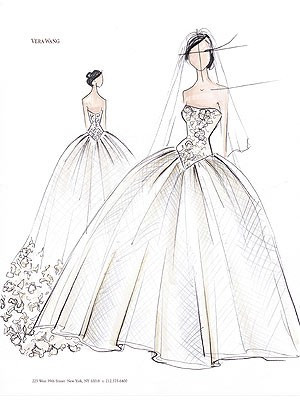 Designer Vera Wang has revealed the private sketches she made when creating Kim Kardashians custom wedding dress.
The three sketches were the final choices left to Kim to decide on which to wear for the wedding ceremony, which according to People she chose two days before her wedding.
"I truly, up until two days before [the wedding] could not decide which to wear."
Kardashian chose to wear the Cinderella like ball gown as the dress for her marriage ceremony to Kris Humphries, which was said to be her favourite, seen in the first image.
For the first dance, Kardashian went with an opposite mermaid style dress with hand-pieced Chantilly lace appliqué on bodice, seen in the second image.
And lastly, when it was time to party, Kardashian made her final change into a basic satin gown with v-neck and circle skirt, seen in the third image.
Wang summed up the experience perfectly: "It was a wonderful process. The fact that she came to me for having a certain classicism mixed with modernity, I feel very honoured" quoted People.