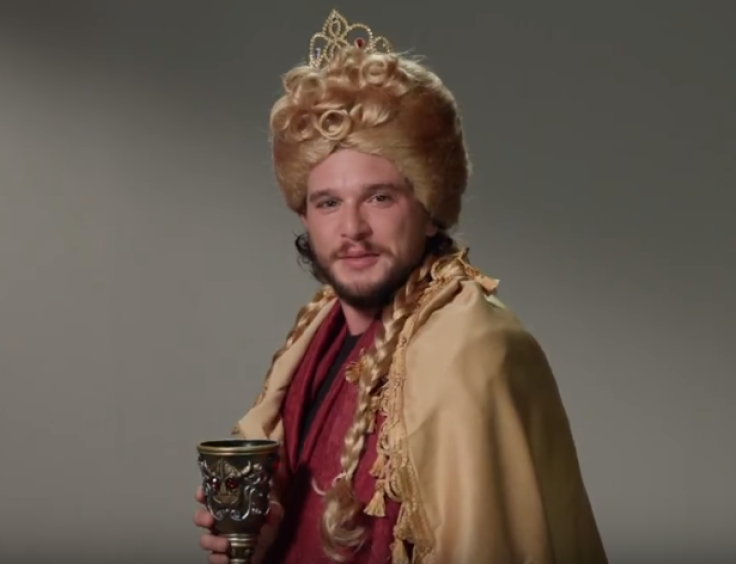 On Game of Thrones, Kit Harington has very little to smile about. Born a bastard, he heads for a life of celibacy (short lived) and service at a member of the Knights Watch.
There he discovers the White Walker uprising and is subsequently betrayed by his own brothers-in-arms. The last time we saw him he was gathering forces to prepare for a battle – both against the undead and the Stark enemies.
However, it was a pleasant surprise to see the actor break free of his brooding mood to have a bit of fun on Jimmy Kimmel Live. On the 10 July episode, Harington decided to treat Game of Thrones fans to mock auditions for the roles of various other characters on the HBO show.
With a towering golden wig, red cape and goblet of wine, the actor first took on Cersei Lannister but could not get her name quite right, pronouncing it "Ker-sei". Getting down on his knees, he then played Arya Stark. "I'm a wittle girl who acts like a wittle boy but I'm a killer with my wittle sword," Harington said comically.
He then went on to mimic Ygritte and Hodor before taking on the Mother of Dragons. "Hell Khal Drogo," he says while sporting the signature wig, before flashing a pair of ridiculous fake breasts, "would you like to see my dragons?"
The 30-year-old tries his luck (and fails) as a White Walker before trying to bring in one of the UK's most popular fantasy characters – Harry Potter.
Game of Thrones returns to HBO with season 7 on 16 July.