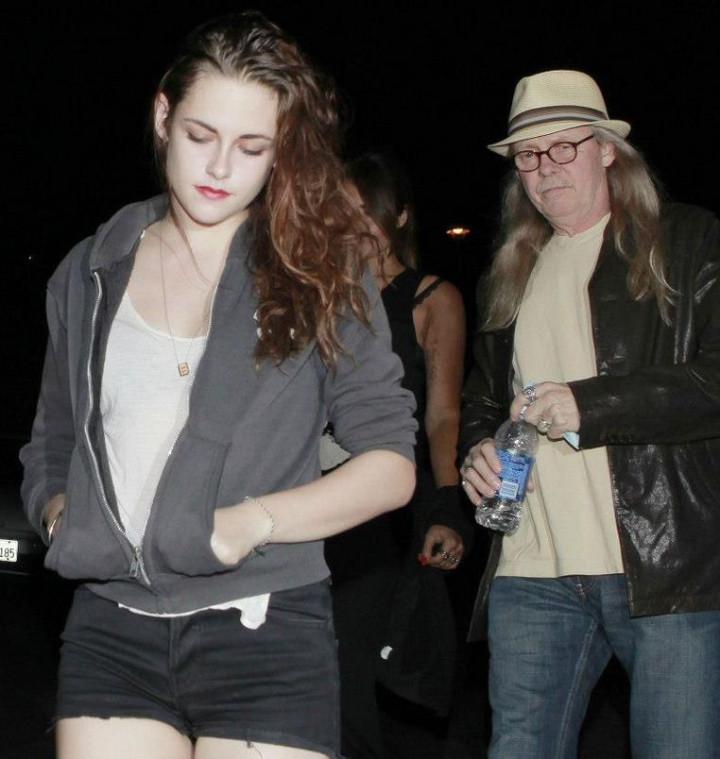 Kristen Stewart spent time with her father, John Stewart, at a Florence + The Machine concert in Los Angeles.
The 22 year old Twilight star kept a low profile and wore black hotpants, a white vest and a Nuns with Guns hoodie. She completed the look with blue trainers and left her hair loose. It was earlier announced John and Jules Stewart, Kristen's parents, had filed for divorce, in a petition on 17 August. The two have lived separately since June, 2010.
Kristen Stewart has had a trying personal life in recent months. The actress was found to be cheating on long-time boyfriend Robert Pattinson (her co-star from the Twilight films) with the director of Snow White and the Huntsman, Rupert Sanders. Reports now suggest the two have reconciled after an angry walk-out from Pattinson but it is believed both John and Jules Stewart have played key roles in persuading Pattinson to give their daughter a second chance.
Meanwhile, Pattinson clearly is still very fond of Kristen, after reports emerged he was worried over her tendency to be overly affected by criticism.
"Kristen is hooked on Googling herself and seeing all of the horrible stuff people write as a way of punishing herself," a source close to the couple told The Sun, "It's not healthy and Robert has said it must stop. When Kristen searches results about the films or her name on Twitter she ends up focusing on all the wild, negative comments against her and it really gets her down. But Robert has told her she needs to stop torturing herself and move on."
The friend added Kristen was so depressed after the scandal broke her weight reportedly dropped to seven stone and she spent most of her time reading old love letters and looking at movies they made together.
The two are expected to make their first public appearance together during the promotion of Twilight Breaking Dawn Part 2 in November.