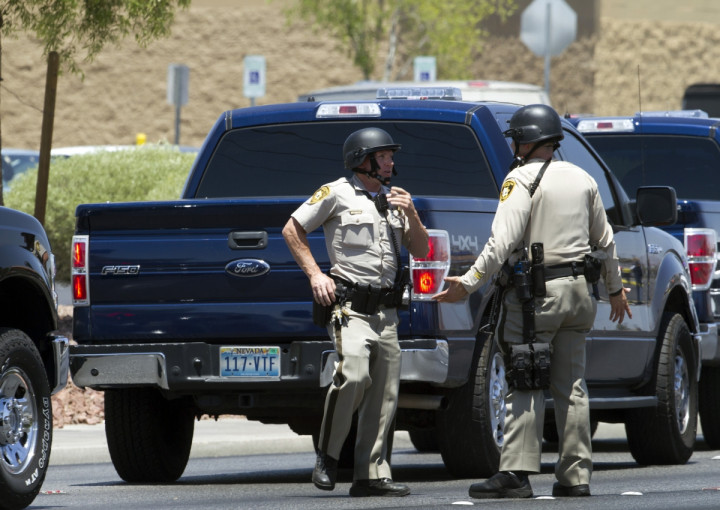 A pair who shot two police officers and one civilian dead in Las Vegas before committing suicide were reportedly white supremacists harbouring hatred towards security forces.
Police sources told local press that the swastikas and other supremacist paraphernalia were found in the early stages of the investigation into the attackers, a man and a woman.
The two were heard shouting "this is a revolution", as they entered a pizza parlour and opened fire on officers Alyn Beck, 41, and Igor Soldo, 31, who were having lunch.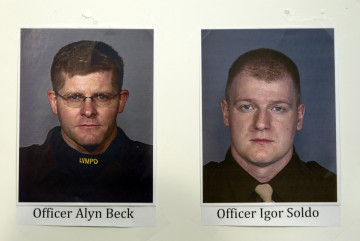 The shooters took badges and weapons off the policemen and covered their bodies with a cloth sporting the Gadsden flag, the Las Vegas Review-Journal reported.
Named after its designer, the US revolutionary general Christopher Gadsden, the yellow flag depicts a coiled rattlesnake above the words "Dont tread on me". It has become a symbol of US patriotism recently adopted by the ultra-conservative Tea Party.
Upon leaving the restaurant, the attackers, who have not been named, entered a nearby Wal-Mart store where they killed a civilian and then turned their guns on themselves in an apparent suicide pact.
The shooters were reported to be a married couple in their early 20s who had recently moved to Las Vegas.
Authorities were searching an apartment in the central Bruce Street.
Neighbours said the couple living there often talked about killing police officers and held strong anti-government views, KTNV reported.
Others said the two would often wear costumes from comics and fantasy novels.
A neighbour said the man would often disguise himself as the Joker from Batman or the fictional character Slender Man while the woman would dress up as Harley Quinn.
Brandon Monroe, a 22-year-old neighbour, confirmed to the Review-Journal that he often saw the man wearing camouflage.
He often dressed as Peter Pan for his work as a street performer at the Fremont Street Experience pedestrian mall, Monroe said.
The neighbour added he believed the couple used methamphetamine and said the man often ranted about conspiracy theories.
Las Vegas Mayor Carolyn Goodman called the killings a "cruel act" and praised the officers for dedicating "their lives to protecting all of us in our community."
A police investigation is ongoing.
[Update: 10/06/2014, 12:13 GMT]
Police said the shooters, who have been named as Jerad Miller and his wife Amanda, view law enforcement as oppressors but were not necessarily white supremacists.
"We don't necessarily believe that they are white supremacists or associated with the Nazi movement. We believe that they equate government and law enforcement ... with Nazis,"said Second Assistant Sheriff Kevin McMahill. "In other words, they believe that law enforcement is the oppressor."
"There is no doubt that the suspects have some apparent ideology that's along the lines of militia and white supremacists" McMahill added.