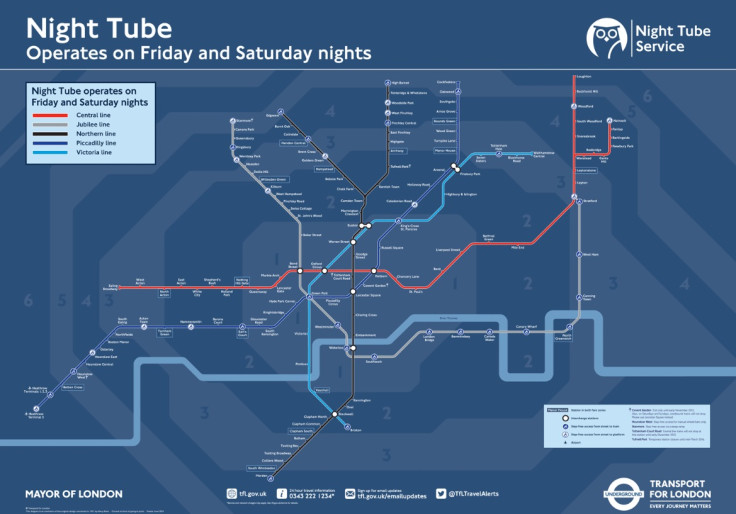 The launch date of the Night Tube has officially been announced, with the London's first 24-hour train service to begin this summer.
The first lines to run throughout the night will be the Central and Victoria lines, which will launch on Friday 19 August, with the Jubilee, Northern and Piccadilly lines launching late night services in the autumn.
Announcing the launch, new London mayor Sadiq Khan told the Evening Standard: "I have made getting the Night Tube up and running a priority, and London Underground has now confirmed that services on the first two lines will launch on 19 August," he said.
"The Night Tube is absolutely vital to my plans to support and grow London's night time economy – creating more jobs and opportunities for all Londoners. The constant delays under the previous Mayor let Londoners down badly."
There are set to be six trains every hour on the lines offering a late night service, between the hours of 12.30am and 5.30am, when a normal service will resume once again, with the exception of the Northern line, which will run eight trains an hour as it is busier late at night.
The Jubilee and Victoria line 24-hour service will run on the whole line, while the Piccadilly line will run between Cockfosters and Heathrow Terminal 5, the Central line will run between Ealing Broadway and Loughton/Hainault, and the Northern line will exclude the Bank branch and Mill Hill East branch.
The highly anticipated service was initially slated to begin in September 2015, but disputes over pay and conditions between unions and London Underground saw the rollout of the night service delayed by almost a year.
Negotiations stalled in December 2015 to the extent that tube bosses feared the service would never launch, but a deal was eventually hammered out that saw workers taking a four-year above inflation pay packet and a bonus of £500.