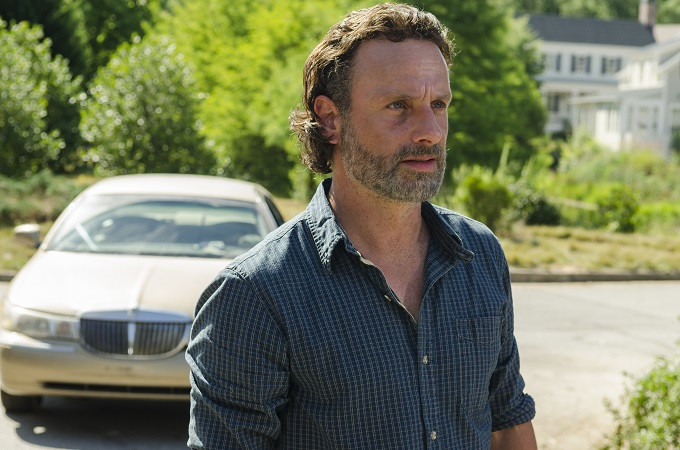 The entire scene description for Walking dead season 7 episode 4 may have been leaked ahead of the episode's airdate which is Sunday, 13 November. The description was reported by TV Geek Talk as a 'preview' for The Service and it narrates the major occurrence in the episode which will have 25 minutes of extra airtime.
According to the preview, Negan will again play mind games with Rick in order to break his already shattered morale and this time he will use Daryl as an instrument. Fans of TWD witnessed Daryl's pathetic life as a prisoner of the sadist Savior ruler in the previous episode.
Warning: Spoilers ahead
In the last episode of season 7, Daryl was forced by Negan to bow down to his rule by becoming one of his own. However, the crossbow warrior displayed immense courage and as he refused to be one of Negan' henchman. But he had to pay a very heavy price for his denial.
According to the latest leak, Negan will use Daryl as a tool against Rick as he enters Alexandria to loot their supplies. Not just that, the Savior leader will order him to load the stuffs on the trucks. Rick, who was desperate to learn about Daryl's wellbeing, will try to connect and talk to his friend. But to his frustration Daryl will act like Negan's submissive and refuse to even notice any Alexandrians around him.
The leak also reveals that Dwight will continue his disgusting attitude and will rob Rosita of almost all her belongings including her cap. She will also suffer mental agony due to Negan's sexual advances.
Negan is proving to be a major headache for other survival societies in the post-apocalyptic world. After the introduction of the Kingdom and its ruler, King Ezekiel, fans are hoping to see the bereaved Rick unite force with him against the atrocities of the Savior leader.
It remains to be seen whether the upcoming episode actually contains any of the leaked details as claimed by the website. The Walking Dead season 7 airs every Sunday nights on AMC.