At least seven workers are reported to be dead, while nearly two dozen others are feared to be trapped after a section of a coal mine collapsed in the eastern Indian state of Jharkhand, more than 1,570 km (975 miles) southeast of capital New Delhi.
Local media reports suggest that a heap of mud caved-in at the entry point of the mine in Godda district late in the evening on Thursday (29 December). At least 23 people are trapped under rubbles.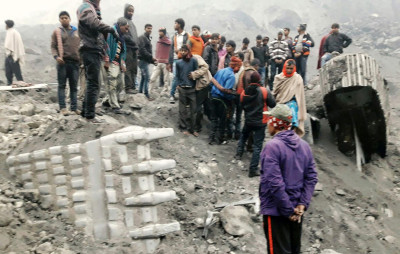 Officials said on Friday that rescue operations had to be delayed as poor visibility due to heavy smog prevented the rescue team from entering the mine until early on Friday (30 December) morning.
There are conflicting reports on the number of deaths and the number of people trapped in the mine. The local media reports claim six to seven people are dead and as many as 40 people could be trapped. However, S K Singh, general manager of the Rajmahal Open Cast Mines, said that only 10 mining vehicles entered the mine on Thursday and as per the company safety rules only one worker per vehicle is allowed to enter the field, AP reported.
The coal mine, which is owned by the state government but leased to a private contractor, reportedly overlooked safety measures during mining, the director general of mines safety said.
India's National Disaster Relief Force had to be deployed at the site to assist the local authorities in the rescue operation.
Jharkhand Chief Minister Raghubar Das, who is monitoring the rescue operation, said he would order an investigation into the collapse.
"Saddened by the loss of lives at a mine in Jharkhand. My prayers are with those trapped inside. Spoke to CM Raghubar Das on the situation," Indian Prime Minister Narendra Modi said on twitter.
Jharkhand is thought to be home to some of the biggest coal mines in India. However, safety standards in the mines are reportedly not being strictly followed all the time.