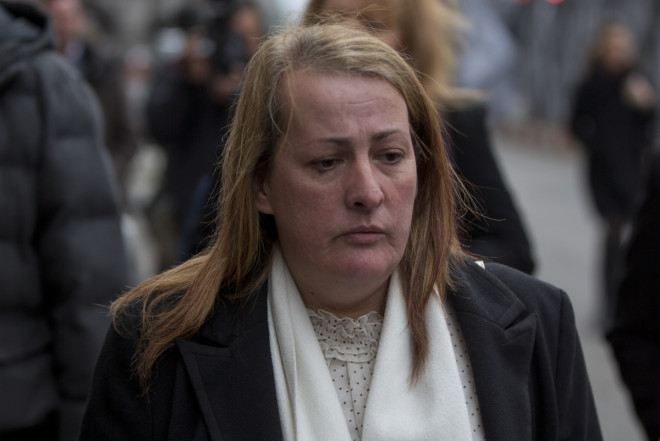 Lee Rigby's mother revealed her terror when her son's killers started brawling in court before her eyes.
Lyn Rigby said she thought she was going to die when Michael Adebolajo and Michael Adebowale began fighting in the dock at the Old Bailey as they were jailed for life.
The pair were shouting and screaming in fury and struggling with several warders who restrained them in chaotic scenes.
Rigby collapsed in fright at the sight of her son's murderers, causing medical staff to rush to her aid.
She told The Sun: "This was the final insult to Lee. It was like they were jumping all over his grave.
"As they started fighting, all I could think was that was how it must have been as they hacked and killed my son. I tried to block out the noises and shouting by covering my ears.
"There was so much banging and chaos. I felt so ill I thought I was going to die. I screamed out and the police rushed to protect me and my family.
"I was terrified the glass screen around the dock was going to smash and I couldn't even breathe properly.
"Even when they were dragged downstairs I could still hear them screaming.
"I don't think I have ever felt so frightened. But I was determined to see it through to the end for Lee."
The violence by Adebolajo and Adebowale exploded as the Muslim pair were each handed life sentences. Adebolajo, 29, was told he will die in prison as Mr Justice Sweeney handed down a rare whole-life sentence. Adebowale, 22, will not be eligible for parole for 45 years.
There was disruption outside court as far-right extremists from the BNP and EDL staged a rally complete with mock gallows.
Army drummer Rigby's family welcomed the long sentences for their son's brutal killing near Woolwich barracks in south London last year. Speaking after Adebolajo and Adebowale had been dragged screaming down to the cells, they said in a statement: "It has brought us a lot of comfort and we feel satisfied that justice has been served for Lee. We now ask to continue to grieve in private."