Lenny Kravitz #penisgate: Fly Away singer's daughter Zoe Kravitz grossed-out by stage malfunction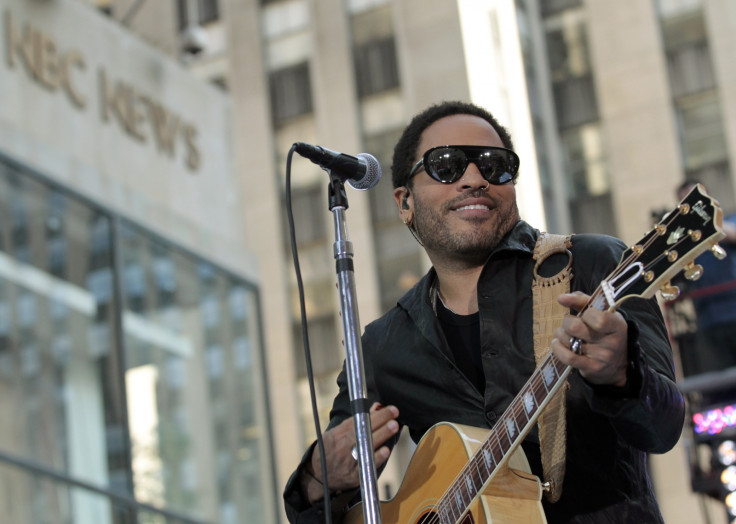 It is not exactly the kind of talk you want to hear from your parents so it is understandable that the daughters of rockers Lenny Kravitz and Steven Tyler have been grossed-out by their famous fathers discussing their manhood on Twitter.
After accidentally exposing his penis on stage in Stockholm, Kravitz, 51, received a text message from Aerosmith frontman Tyler reacting to the incident, dubbed #penisgate, however their respective daughters Zoe Kravitz and Chelsea Tyler did not see the funny side to their banter.
X-Men star Zoe shared a screengrab of a text message she received from Chelsea, 26, which read: "So our dads talking about d***s on social media is cool," to which the actress replied: "What?! Oh no.. Twitter? Oh god... Hahha #penisgate." In his text message, former American Idol judge Tyler, 67, wrote to Kravitz: "Dude... No underwear and pierced... F**k me.. You never showed me that s**t."
Just like their fathers, Zoe, 26 and Kaneholler rocker Chelsea are believed to have been good friends having developed a bond throughout their childhood. Explaining how they became close pals, Chelsea told InStyle in April 2015: "Our dads toured together and were buddies when we were growing up. We'd see each other every once in a while. I ran into her in New York when I was living in Boston, and went back to her apartment to catch up."
Zoe is also friends with Chelsea's bandmate Jon Foster, son of actor Ben Foster, who told the magazine: "I've known [Kravitz] since she was 16. She ended up dating my brother, and she was my roommate for a while when my brother and I lived together. She sort of became like a little sister."
Fly Away rocker Kravitz is still trying to live down the #penisgate incident, which saw him split his leather trousers in the crotch area while lunging into a squat, causing his manhood to fall out. Unfortunately for the singer, he is unable to hide away with his current tour to promote his latest album Strut, continuing across Europe before moving on to North America.
Relive #penisgate with a safe-for-work video of Lenny Kravitz splitting his leather trousers:
© Copyright IBTimes 2023. All rights reserved.