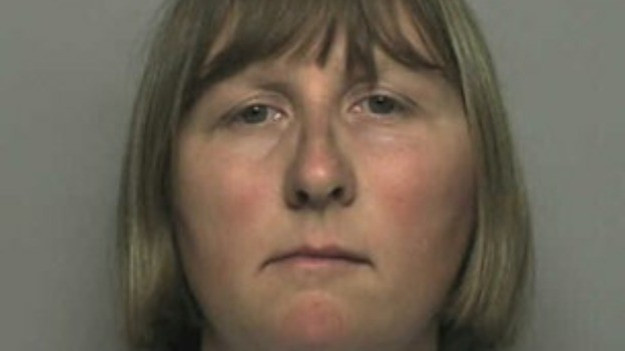 A mother convicted for killing her three-year-old daughter laughed and joked in the hospital as doctors attempted to save her.
Lesley Dunford, 33, was convicted of manslaughter for the death of her daughter Lucy, just six months after her seven-month-old son died in an apparent cot death.
Judge Richard Brown told Dunford of Exeter that she went from "carer to killer" when she took her daughter's life. She was jailed for seven years.
Nurse Caroline Simpson told The Sun that Dunford was relaxed and joking with her youngest daughter in the hospital waiting room while medics attempted to revive Lucy, who was found in her bed in the family home in February 2004.
"The girl put a paper cup of water to her mouth but it spilled down her front. The mum said 'She's always doing that'. She appeared to find it quite hilarious."
The court heard how Dunford rang her husband Wayne, 54, before she dialled 999, telling him "it's happened again" - a reference to her son Harvey's death in 2003.
Initially, doctors believed that Lucy may have died of a bacterial infection and suffocated on her own vomit but further examinations uncovered bruises and a cut above her left eyebrow.
Brown said: "It may well be that you are the only one who knows exactly what happened on that dreadful day in 2004 which took you from carer to killer.
"Since then you have done your level best to lie your way out of any responsibility. This indicates you have little or no remorse for what you did."
Simon Ringrose, of the Crown Prosecution Service, said: "This was a difficult and complex case that involved evidence from a number of medical experts.
"Ther reinvestigation into the circumstances of Lucy Dunford's death included obtaining further medial evidence.
"The evidence effectively ruled out a natural cause of death and was consistent with Lucy having been suffocated. The only person who could have done this was her mother."