He is one of the biggest pop stars on the planet so it's hard to believe Liam Payne would have any problems mingling in celebrity circles, but when the One Direction singer came face-to-face with P Diddy, he quickly learned that being famous doesn't make you exempt from awkward encounters.
The 23-year-old heartthrob has branded the moment he introduced himself at an industry bash the "most daunting celebrity experience" of his life, and revealed the rap mogul laughed in his face.
Appearing on KIIS FM's Kyle and Jackie O, Payne said: "I went over to speak to him and Jay Z, and as I shook his hand, he just chuckled... the most evil laugh that I've ever heard. So I'm a little bit fearful of that man.
He added: "It was like the most daunting celebrity experience that you could ever imagine."
The snub was particularly painful because despite standing near Jay Z and Leonardo DiCaprio, he opted to approach Diddy thinking he was "a safe bet".
"Obviously, I missed the mark a little bit," he lamented. If Diddy's apparent "dismissal" of Kylie and Kendall Jenner is anything to go by, subtlety isn't his forte.
It's been a busy few months for Payne who debuted his long-awaited solo single, Strip That Down, earlier in May. Not only did his pal Ed Sheeran co-write the track, he also made a secret cameo on the hook.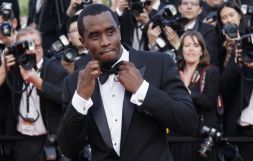 "The voice that does the 'strip that down, girl' [in deep voice], that's actually him, " Payne told Nick Grimshaw on BBC Radio 1. " I feel so lucky that he wanted to write a song for me and I just want to say thank you to him more than anything. It's amazing."
Payne became the final One Direction member to release solo material just weeks after welcoming his first child with former X Factor judge Cheryl on 22 March. Celebrating the birth of his son Bear he penned a heartfelt message on Instagram which read: "My close friends and family know there are very few times when I'm left speechless... wow!" he wrote.