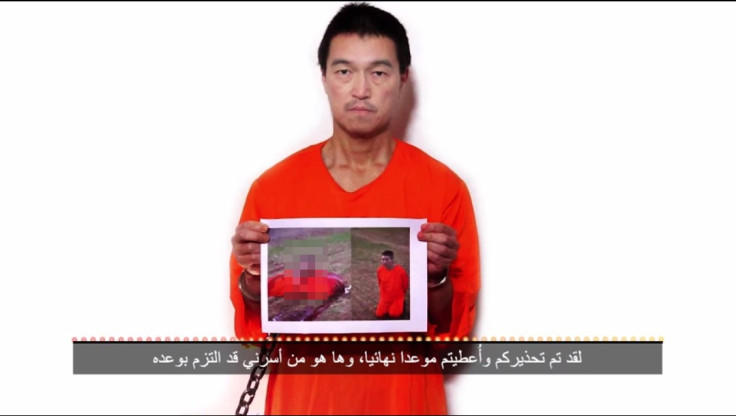 Islamic State (Isis) captive Kenji Goto could be freed in a prisoner swap involving a terrorist on death row in Jordan, it has been reported.
Senior ministers in the Jordanian government have indicated they may release the prisoner in order to secure Goto's freedom, bringing hope to friends and family of the Japanese journalist.
IS militants have demanded the release of a woman who was a part of suicide bomb plot which killed 60 people in 2005.
The clock is ticking for Goto, following the beheading of fellow Japanese hostage Haruna Yukawa by Islamic extremists last weekend.
However, it is understood Jordan would insist any prisoner-swap deal also includes a captured pilot from the country's air force, whose plane crashed in territory controlled by IS, last month.
The latest development was reported by Kyodo News agency in Japan, from an interview with a member of Jordan's Arab and international affairs committee.
The Japanese outlet claimed minister Bassam al-Manaseer said the Jordanian government "may comply" with the demand by IS for the release of female terrorist Sajida al-Rishawi – who is currently awaiting execution in Jordon for a terror atrocity 10 years ago.
King Abdullah of Jordan has said previously that securing the safe return of fighter pilot Muath al-Kaseasbeh "tops the country's priorities."
IS recently changed its demands for the life of remaining Japanese hostage, Goto. The terror group previously demanded a $200m (£132m) ransom in return for Goto and Yukawa's lives. Yukawa was executed last weekend in a video which was confirmed as genuine by Japan's Prime Minister Shinzo Abe.
A member of the Japanese cabinet said talks were ongoing with Jordan over securing the release of the hostage. PM Abe has taken a firm line by so far by refusing to the bow to an earlier demand of IS.