Lindsay Lohan turns 30 tomorrow (2 July), and while she may have had somewhat of a troubled time during her 20s, things are looking much more positive these days for the red-headed actress. So to celebrate her reaching that special number, IBTimes UK has looked back on all of the things she's achieved and got up to in the past 12 months...
Egor Tarabasov engagement...
In April, Lohan became engaged to 22-year-old Russian heir and real estate businessman Egor Tarabasov. The pair started dating about five months prior to the question being popped, sotheir relationship got serious pretty quickly. Tarasbov even spent the holidays in New York with Lohan's family, who reportedly gave him the seal of approval.
Duran Duran...
During a concert in New York City's Barclays Center earlier this year, Lohan joined new romantic icons Duran Duran on stage. She was called up by frontman Simon Le Bon and shortly after being handed a microphone, shared a brief chat with the British group before bursting into song.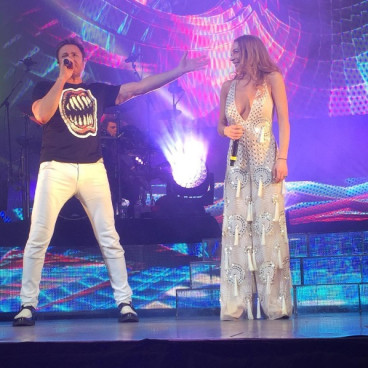 Continuing her acting career...
Last year saw the release of Lohan's latest picture, Till Human Voices Wake Us; a fantasy short inspired by the Celtic myths of the Selkies. Even more recently, Lohan finished production on supernatural movie The Shadow Within.
The film itself follows Kristy Wolfe (Charlotte Beckett), a tough private investigator, who constantly has to hide the fact that she's descended from a long line of werewolves. When her uncle is brutally murdered, Wolfe must use her natural instincts and risk revealing her secret to unravel the mystery – before she becomes the next victim.
Eu referendum commentary/Brexit...
Despite being an American, Lohan currently lives in the UK with Tarabasov and seemed pretty tuned in with all that was going on with the EU referendum. Her comments passionately favoured Britain staying in the EU and soon became one of the most-talked about things of the day.
She has since deleted the outbursts but she made several, somewhat bizarre, statements such as: "#REMAIN Sorry, but #KETTERING where are you&why is this woman @BBCNews speaking on people rather than TELLING us what happens if UK LEAVES," and "@BorisJohnson #Trump what discussions are you having?"
She even asked to her 9.29m followers, The Telegraph and presumably the universe, what one of the UK's most divisive politicians would have thought of the outcome of the referendum: "@Telegraph what would #MARGARETTHATCHER THINK OF #Brexit ?"
She also tweeted The Independent, saying: "@Independent why? prove the UK will not trigger anger by allowing (sunderland) to lower the UK pound - THIS IMPACT WILL CONTROL ALL MARGINS", while insisting she had not been hacked.
The Mean Girls star has since agreed to turn on the Christmas lights in Kettering, Northamptonshire, later this year.
Islam
In April, it was reported that Lohan was studying Islam when paparazzi photographs of her carrying a copy of the Quran emerged. Later on, Lohan confirmed that she was in fact learning about the religion and was considering converting.
'I'm a very spiritual person and I'm really open to learning," she told The Sun. "America has portrayed holding a Koran in such a different way to what it actually is."
Organising future projects...
In a recent interview with Vanity Fair, Lohan revealed that she's not only writing a book but, in the future, she plans to continue making more movies, start a charity and work with children. She also mentioned that she hopes that starting a family with Tarabasov will be on the cards over the next few years.
For more entertainment news follow A-List on Twitter @Alistinsider