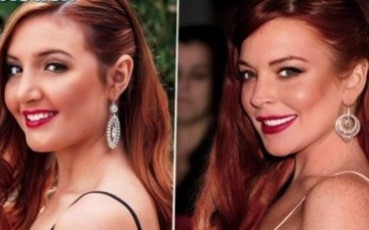 Lindsay Lohan's half-sister has confessed to spending a small fortune on plastic surgery to look more like the Mean Girls star.
Ashley Horn, who is Michael Lohan's love-child from a 90s fling, revealed that she spent $25,000 (£16,000) on five surgical procedures to drastically alter her physical appearance.
The 18-year-old enlisted the expertise of Houston-based surgeon Dr Franklin Rose to emulate Lohan's look from the height of her fame.
"My goal was to look like Lindsay in her good days, when she was around 18, 19 years old," Horn told In Touch magazine.
"I've got rhinoplasty, a bit of refinement underneath my cheeks and jawline, some fat injected into my chin, and some fat injected into my upper cheeks."
Horn, who is hoping to follow in the Hollywood A-lister's footsteps to pursue a career in acting, claims that Lohan now has some competition.
"I'm hotter than Lindsay! I have no problem saying that," she said.
But although they look almost identical, Horn claims that their personalities are polar opposites.
"I'm not Lindsay. I wasn't raised in that family," she told In Touch. "I don't drink, do drugs or party. I like being a responsible person."
Speculation over Horn's paternity first surfaced in 2011, after it emerged that Ashley's mother Kristi had a secret affair with Michael while he was still married to now ex-wife, Dina Lohan.
During an appearance on Trisha Goddard's talkshow in November 2012 alongside Kristi and Horn, Michael confirmed by a DNA test that he had fathered the teenager.
Despite sharing the same father, Lohan reportedly has no interest in building a relationship with her estranged sister.
"I've tried to be the bigger person and reach out woman to woman but I'm done," said Horn in a public tweet to Lohan."I just can't. If you don't care, why should I?"