You can't blame Steven Gerrard for dismissing Chelsea. It's something the Liverpool captain has done on a number of occasions, including when his signature was coveted by Jose Mourinho in 2005 on the back of the Champions League victory. But there's no way he could reveal a sense of being overwhelmed at the standing ovation given by the Blues supporters after he left Stamford Bridge for the last time as a Red.
The Gerrard farewell tour is now in full effect and the aftermath of the game against Crystal Palace will be emotional for the lifelong Anfield star, a time to say goodbye to the fans who have seen him through his darkest days and biggest triumphs. That will be a tough day and you could see in his face, after grabbing the equaliser to John Terry's opener, that mass celebrations weren't on his mind.
But this was an occasion that evoked memories of last season, where a slip remained the difference between second place and silverware in the form of the coveted league title that has eluded Liverpool since 1990 and Gerrard his whole career.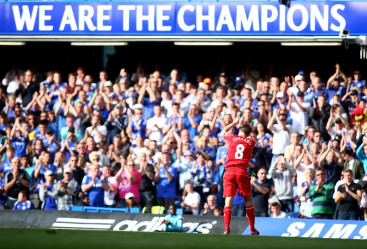 It would have been tough lining up at the start of the Chelsea game, creating a guard of honour as the Premier League winners marched on to the pitch, Gerrard seeing first-hand what he would have likely been privy to had he taken the trip to London to play, at the time in 2005, alongside Frank Lampard, John Terry and co.
But the Chelsea supporters didn't let the Liverpool captain forget his "this does not f*****g slip now" exhortation last season. Singing chants and waving banners of the infamous moment that Gerrard's foot gave way, leaving Demba Ba to nip in and score, thus consigning the Anfield club's league title aspirations to the sidelines once again, meant the captain was in for an afternoon of abuse.
And suddenly turning to applaud Gerrard, although a genuine gesture, would have been tough to swallow, at least publicly. I'm sure he'll look back on it with a heavy heart and a wry smile.
Mourinho realises how big a loss the Liverpool captain will be, with Gerrard once again admitting he turned the Blues boss down not only at Chelsea but also Inter Milan and Real Madrid. And in singing his praises, while somewhat defending the actions of Chelsea, Mourinho again revealed his admiration for the Reds star.
'The best manager in the world'
Gerrard dubbing Mourinho "the best manager in the world" was telling. One could only imageine how much he would have loved the Portuguese boss to have been in charge at Liverpool 10 years ago and how different his trophy cabinet would have looked if that were the case. But in terms of people taking charge, with Jamie Carragher comfortable in his Sky pundit role, once Gerrard leaves in a couple of games, the Reds will be without any stalwart leaders.
Gerrard is going to be missed on the pitch, there's no doubt about that, but Liverpool are a young team who need some experience and the ability to offer guidance and direction. Jordan Henderson may be made captain next season but he's still young and doesn't have the know-how an older player may have. Meanwhile, Dejan Lovren came in as a potential leader but that has failed to materialise.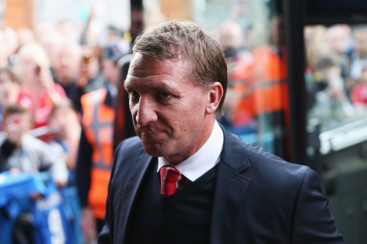 No wonder there are rumours swirling that Liverpool are considering a bid for Andrea Pirlo (a great acquisition, yes, but somehow ironic considering they're letting a soon-to-be 35-year-old Gerrard go).
The influx of players before the start of this season has been somewhat detrimental to Liverpool's campaign, with the new bunch of players needing time to bed in. Without someone of Gerrard's authority next season to guide them in their development, the Reds may once again struggle.
But Brendan Rodgers and his transfer committee knew Gerrard was leaving in January and hopefully solid plans are in place for them to strike early once the summer window opens so they can get the necessary personnel to help the club reach the next level.
Missing out on elite European football next season with the consolation of the Europa League – if you can call it that; some prefer the term "poisoned chalice" – will make it harder to get the big names, while an assault on the league title may need to be put back a season with the target of the Champions League the focus next term.
If they can fill the Gerrard-sized hole on and off the pitch with two or three players who bring a blend of experience and understanding for big-game situations, as well as knowledge when it comes to nurturing the youngsters at Anfield, then perhaps Chelsea's supporters will have to get some new banners and songs ready as Liverpool put themselves in the right frame of mind to take them down a peg or two.
Stacey McIntosh is chief sub-editor of IBTimes UK. He has previously written for Metro and Men's Fitness. He is also the founder of Love Your Content, a creative agency for sports, health and fitness companies. Follow him @loveyourcontent.