Liverpool Star Luis Diaz's Emotional Reunion With Father After Kidnapping Nightmare [Video]
Luis Diaz has flown to Colombia ahead of the World Cup qualifying match against Brazil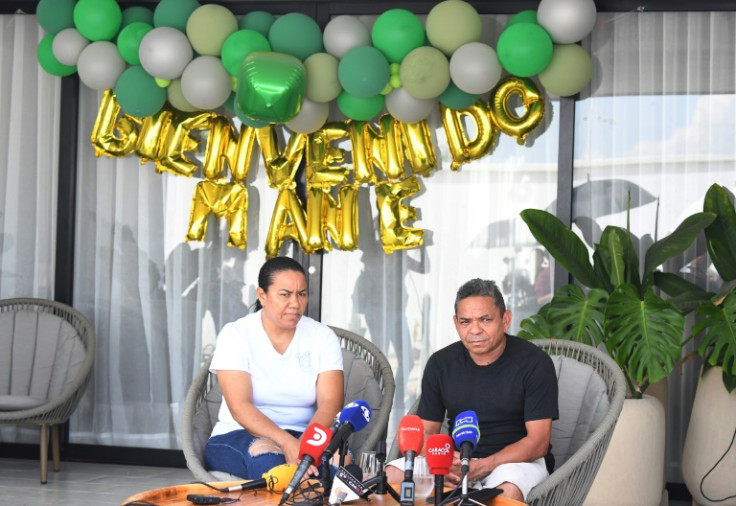 Liverpool FC star Luis Diaz has been reunited with his father, Luis Manuel Diaz, who was released 12 days after being kidnapped by rebels.
Diaz and his father cried as they hugged each other for the first time after the kidnapping nightmare, as seen in a video shared by the Colombian FA on social media platform X, formerly known as Twitter, with the caption "we are family."
Luis Diaz shares emotional pictures
The Liverpool striker also shared a few emotional snaps on Instagram, with the caption "Thank you God for allowing us to be together again as a family."
Diaz Sr. was released last week by the leftist National Liberation Army (ELN) which took him hostage on Oct. 28 when he was at a gas station along with his wife. The incident took place in Barrancas, a rural municipality in the northern province of La Guajira.
The ELN group reportedly said it had kidnapped the 58-year-old and his wife, Cilenis Marulanda, for ransom. The group soon released his wife as police closed in, but forcefully led Diaz Sr. into the nearby mountains at gunpoint.
During this time period, Diaz remained in Liverpool up to Sunday's Premier League win over Brentford before returning to Colombia ahead of their FIFA World Cup qualifier against Brazil on Thursday evening at Roberto Melendez Metropolitan Stadium in Barranquilla, Colombia.
Diaz's father will not leave Colombia
Díaz's father has said he would remain in Colombia despite his hard kidnapping experience. "My aspirations are to continue in my town because I have my entire family in my town," Diaz Sr. told a press conference on Friday.
Speaking further of the "difficult time", a tearful Diaz Sr. said that he was made to walk "too much" with little sleep while he was kept in a mountainous area. "I would not want anyone to be on that mountain in the situation I was in," he added.
Colombian police later said they had arrested four people who are "allegedly responsible for Diaz Sr's kidnapping. Police also said that thanks to a coordinated effort between Colombian and British authorities, a criminal group called "Los Primos" was undone.
Police had initially said that a criminal gang was most likely to blame for the kidnapping. But a government delegation later said it had "official knowledge" that the kidnapping had been carried out by "a unit belonging to the ELN."
Meanwhile, the leader of the ELN group described the abduction of Diaz Sr. as a "mistake" but also insisted that kidnappings for ransom were not a breach of the ceasefire it signed earlier this year.
The guerrilla group released the Liverpool star's father last Thursday to United Nations and Catholic Church officials. Later that day he was reunited with his wife and other family members, but it took a few days before Diaz could finally meet his father.
The player missed two of Liverpool's matches while his father was being held hostage by the rebels but came off the bench during the English Premier League game against Luton on Nov. 5.
After scoring a goal in stoppage time, he pulled up his Liverpool shirt to show a t-shirt underneath bearing the message "freedom for papa".
Diaz, who was urged to stay put in Liverpool during his father's kidnapping due to safety reasons, received immense support from the entire Reds squad, including boss Jurgen Klopp. The Colombian international received the news of his father's release ahead of Liverpool's Europa League clash with Toulouse in France.
"It looks like Lucho [Díaz] is really happy, [giving] thumbs up all the time. It looks very, very good. Timing-wise it couldn't have been better," said Klopp before his side suffered a controversial 3- 2 loss in southern France.
A statement from Liverpool read: "We are delighted by the news of @LuisFDiaz19's father's safe return and we thank all those involved in securing his release."
Liverpool climbed to second place in the 2023-24 Premier League following their 3-0 win over Brentford. Following the international break, the Reds will return to action on Nov. 25 when they take on Manchester City at Etihad Stadium. The winner of the fixture will claim the top spot in the league table.
© Copyright IBTimes 2023. All rights reserved.