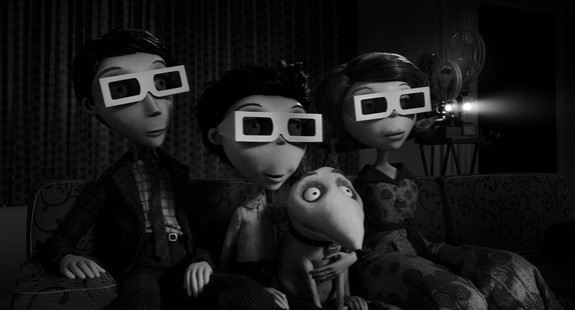 A whole host of dazzling new films will be showcased across the capital as part of the 56th London Film Festival, which will span 11 days and feature more than 200 films across the city.
The annual extravaganza will open with the European Premiere of Tim Burton's animated feature Frankenweenie, about a boy who brings his pet dog back to life. The film, which is a tribute to the Boris Karloff horror classic Frankenstein, will be shown at the BFI IMAX, the largest cinema screen in the UK, as well as 30 other venues.
Mike Newell's adaptation of the famous Charles Dickens novel great |expectations, starring Ralph Fiennes and Helena Bonham Carter, will close the festival. Burton and partner Bonham Carter have had two children togethger, and the couple will both receieve BFI Fellowships for their services to the British film industry.
"I feel very touched and grateful to the BFI for this tremendous honor. It means more than I can put into words to receive the BFI Fellowship and to be included alongside the great directors who have received it before me," said Burton.
Bonham Carter was equally grateful, saying: "I am somewhat bewildered and not sure that I am deserving of such an honour as a Fellowship from the BFI, but shall accept it with deep gratitude".
It's not just Hollywood that descends on the capital for the festival, as efforts have been made by organisers to improve its artistic credentials by introducing a main competition for the first time. The likes of Seven Psychopaths, Midnight's Children and Rust & Bone will all jostle for the top prize, though at the moment any gong will hold nowhere near the prestige of a Palm d'Or. Playwright, film and theatre director Sir David Hare will preside over the jury that will decide the award winner, alongside the likes of novellist Sebastian Faulks, British actress Romola Garai and Harry Potter filmmaker David Yates.
Festival organisers have tried this year to engage with moviegoers' emotions, creating categories of screenings on abstract themes such as Love, debate, dare, laugh, thrill, cult, journeys and family. Clare Stewart, director of the London Film Festival said that the new changes were designed with the audience in mind.
"We want to make it textured and surprising, easier to find films of interest and discover films you might overlook," she said whilst hosting a Q&A session on Twitter.
As well as showing the latest features, the festival will also look into the past, with archived restorations displayed as part of the beloved treasures section. This year's bill includes a restoration of Alfred Hitchcock's 1929 silent film The Manxman as part of the British Film Institute's project to restore the majority of the auteur's work.