A teenager's hand was left "hanging by a thread" after being attacked with an axe during a brutal Islington street fight.
The 18-year-old victim, who was wielding a machete, came to blows with another man armed with a hatchet at 6pm on Thursday, in a fight thought to be related to gang warfare.
The man who attacked the teenager sustained back injuries during the skirmish, which left blood splattered across Upper Street.
One onlooker told the Evening Standard that the victim's hand was left "hanging by a thread".
A Metropolitan Police Service spokesman said enquiries into the incident were ongoing with the Met's Operation Trident, which specialises in gangland activities, investigating.
He said: "Police were called at around 6pm on Thursday, 26 March, to reports of one male attacking another with what was reported to be an axe/hatchet.
"Two men in their late teens were taken to hospital, one with arm injuries, the other with stab wounds to the back. The injuries to the men are not believed to be life threatening. Both men have been arrested on suspicion of GBH.
"Police have also recovered a knife from nearby to the scene."
Any witnesses or anyone with any information about the attack can call police on 101 or call Crimestoppers anonymously on 0800 555 111
0800 555 111.
Violent post code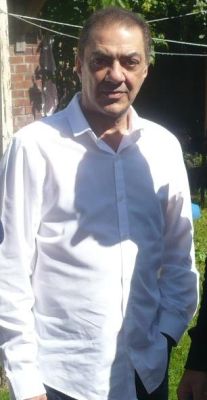 The attack followed the murder of Mehmet Hassan in Islington on Monday 24 March. Hassan was found at a property on Baxter Road after relatives contacted police to express concern for his welfare.
He is thought to have been beaten to death in his own home after sustaining neck and chest injuries.
Four men aged 28, 30, 27 and 24 years old, and one 24-year-old woman have since been arrested in connection with the murder and are all in police custody.
An incident room has been opened under Detective Chief Inspector Andy Partridge, of the Homicide and Major Crime Command.
He said: "I would like to appeal to anyone who has seen any activity in and around this address to make contact with my officers. In particular I would like help from the public who can assist with the movements of the victim between 7.30pm on Sunday [23 March] and shortly before police found the victim on Monday."