"I am looking for a slutty girl who wants to stay rent free in Central London at my house in exchange for no strings attached," one Craigslist advert reads. "Mustn't complain that I smoke. Don't mind if you're young." Alongside is a picture of a topless man in a pair of orange shorts, posing in front of the MI6 building on the Thames.
There is no shortage of similar ads, posted by men for women. "Well-dressed gentleman looking for an Asian sub/slut to develop a long-term relationship... I have several years' experience and am an alpha male," another reads. One simply asks for a "female spankee".
London's housing crisis is an accelerating disaster and the effects are hitting women the hardest. Swept up in the staggering rise of rental costs in the capital, cuts to housing benefits and a gendered and class-based pay gap, women are being exploited into making desperate and potentially dangerous decisions. It is a manifestation of several problems woven into the rental crisis: poverty, austerity and misogyny.
When an IBTimes UK reporter posed as a 24-year-old central European woman to get more information, several jumped at the chance to "help out" a young woman in heavy debt desperate for somewhere to live. Social deprivation is now an opportunity to sexually exploit and subjugate.
Some wanted sex, others sought "companionship" and a few wanted both, as well as a woman willing to cook, clean, shop and who didn't mind the occasional spanking. The deal includes general subordination as well as sex.
Flipboard magazine: London's rents crisis series in full

It turned out the man in the orange shorts - Rod - was offering a room share with a sofa to sleep on. "It is available now," he said. "Really I am looking for a girl who is OK to get on with and you have to be willing to spread your legs when I want to f**k you."
And while most have not considered that soliciting sex in exchange for something of financial value could breach prostitution laws, perhaps more disturbing is the open ambivalence to age.
"If you are a black or mixed race girl or even dark-skinned Indian/Asian girl of any age or nationality I can offer you a home," one advert states. "As long as you are willing to share a bedroom/sleep with a white English guy."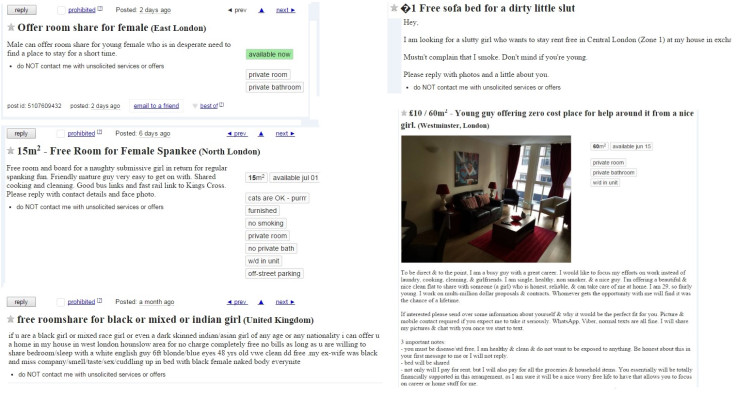 The hardship women disproportionately face as a consequence of the housing crisis and welfare reforms have created an avenue for this misogyny to flourish. Austerity is a feminism issue, but so is the housing crisis. The effects of the freeze on housing benefits - as part of a wider freeze on working age benefits - are being felt by women the most.
Benefit caps and tax credit cuts in policies orchestrated by the Conservatives in their majority budget will disproportionately affect women, because their incomes are twice as reliant on welfare due to caring responsibilities and stagnant wages. We have already seen the consequences of the dissection of the welfare state during the coalition. Since 2008, 826,000 extra women have moved into types of work that are typically low-paid and insecure, according to the Fawcett Society.
Crippled by welfare reforms, the poorest live in temporary accommodation – which can be far from support networks – and they are shifted from council to council like a problem nobody wants to deal with. More women are queuing as food banks, going hungry to feed their children or waiting in line for sanitary towels. Official figures released by the Trussell Trust in 2014 showed a double in cases – many which were mothers and families.
Meanwhile, the price of renting continues to soar. Annual rent rises have hit 5.6% across England and Wales – the fastest increase since records began in 2009. It cannot be a coincidence that homelessness is also on the rise, from 1,768 in 2010 to 2,744 in 2014, according to government statistics. Put bluntly, the number of people sleeping rough has soared by 55% while David Cameron has been prime minister.
These factors have forged a situation so desperate for women that the most vulnerable – migrants, the lowest-paid, those affected by domestic violence – are agreeing to have sex in exchange for a roof over their heads. This kind of agreement is fraught with risk. What happens if you don't feel like spreading your legs? Blackmail? Violence? Rape? There is no guarantee of a home, especially a safe one.
Structural inequality and patriarchy is to blame for pushing women into poverty and taking the dire consequences as an opportunity for sexual gratification. And as rents continue to rise and the hit list of Tory welfare reforms take hold, it is impoverished women who will suffer the most.