Luxury British phone maker Vertu has been sold to Chinese investors based in Hong Kong. CEO Max Pogliani has stepped down after three years of service and will leave the Hampshire-based company.
Seeing the company handed over from its previous owner, a Swedish private equity group called EQT, to Godin Holdings, Pogliani said it was "an appropriate time to pass on the baton of leadership to a new team". A group of "international private investors" were also involved in the buyout, although terms of the deal were not disclosed, reports the FT.
Under the leadership of Pogliani, Vertu's popularity grew with well-heeled customers who were drawn away from iPhones and towards a brand which produces leather and alligator skin-clad Android handsets with sapphire screens, ruby bearings, titanium bodies and a personal concierge service. During his final months at the company, Pogliani had hinted at Vertu producing a luxury wearable gadget, although plans have not yet come to light. The company was "looking into that space," he told IBTimes UK during a factory visit in February.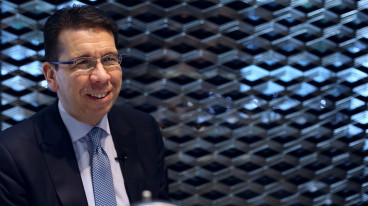 Vertu was created by a team of British engineers working at Nokia during the Finnish company's heyday of the early 2000s. The company, which sold its first phone in 2002, is based at a facility in Church Crookham, where all handsets are built by hand.
The average selling price of a Vertu is around £5,000. However, the company has previously sold one-off phones for over £200,000.
Vertu was sold to EQT for more than €200m (£142m) in 2012, and by 2015 the company had sold 450,000 handsets, each with access to the concierge system, which provides a 24-hour phone line for customers to arrange last-minute flights on private planes, book exclusive hotels and restaurants, and pay for sold-out sports tickets.
Following the sale to Godin Holdings, Vertu says it will continue to be based at Church Crookham, where it employs around 450 people. A further 500 staff work for Vertu around the world, including at its boutique retail stores in Europe, Asia and the Far East.