Vertu Signature for Bentley is a carbon fibre-clad £14,500 phone with concierge service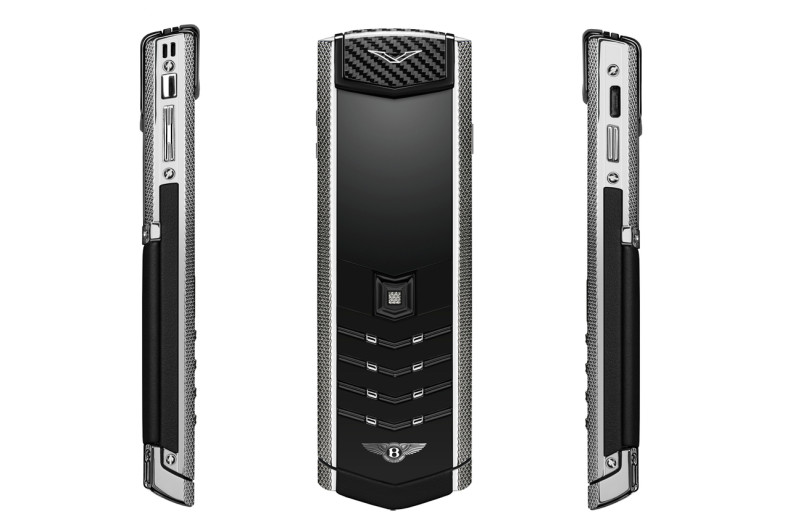 Luxury phone maker Vertu has extended its partnership with car manufacturer Bentley with a new handset costing £14,500.
Called the Vertu Signature for Bentley, the new phone is based on Vertu's most exclusive, premium (and expensive) range, the Signature, and adds a Bentley logo, carbon fibre, and calf leather from the same tannery as used by the car maker.
Bentley is also featured in the phone's software, adding custom wallpapers and a new start-up logo. The carbon fibre weave around the earpiece is the same pattern as used by Bentley, and the phone is inspired by the Mulsanne Speed vehicle.
Vertu also sells a version of the Signature Touch - the company's flagship Android smartphone - with Bentley logos and tan leather.
As with all Signature handsets, the physical keys are made from sapphire crystal and each sits on a ruby to provide the perfect click when pressed.
But, this being Vertu, £14,500 is just the starting price. Almost anything can be customised to make the Signature truly unique - such as different materials like gold, titanium and platinum, the addition of diamonds, or alligator skin instead of leather. Almost unique in the phone market, the Signature does not have a touch screen and does not run Android; nor does it have access to an application store.
Instead, the British-made Signature is a phone purely for making calls and sending text messages - although with calling Vertu's concierge service, which can be used to do just about anything, from booking last-minute tables at exclusive restaurants, to chartering private jets and arranging weddings.
The handset is available to pre-order now ahead of its 18 September launch, and will be shown off on Vertu's stand at the Goodwood Festival of Speed, which runs from 25-28 June.