Violence has marred the Europa League match between Lyon and Besiktas with fights breaking out in the stands and fans taking refuge on the pitch.
The match between the French and Turkish teams on Thursday (13 April) at the Parc Olympique Lyonnais had to be delayed after a series of clashes in the stands.
In images widely-shared on social media, home fans invaded the pitch to goad Besiktas supporters who were spotted throwing fireworks and other objects down to the lower tier at home fans.
The travelling fans came under attack from Lyon supporters armed with weapons in the terraces before the game had even started. Smoke bombs were also let off inside the stadium.
The trouble prompted police involvement outside the ground with French authorities allocating the fixture as 'high risk' and commandeering 500 police for the fixture – more than double the number for a normal match.
Fans were forced to take refuge on the pitch as the players remained in the dressing room, with Lyon president Jean-Michel Aulas attempting to calm things down in the stands.
"Projectiles and fireworks launched from the stands require fans to take refuge on the pitch," Lyon tweeted.
The club had already been forced to apologise after a "communication glitch" meant a third of all the seats inside the 60,000 stadium were made available to Turkish fans.
The game was scheduled to kick-off at 8:05pm but ended up starting 45 minutes later, with Lyon scoring twice in the closing 10 minutes to win 2-1.
Besiktas had taken an early lead through former Liverpool striker Ryan Babel before the referee was forced to hand away fans a further warning after flares were lit in the stands.
Outside the stadium, trouble erupted between rival fans near an entrance as tear gas canisters were thrown.
It was also reported by Sky News that a group of Turkish fans from Germany had smashed a pair of glass doors at the club megastore when they could not buy tickets to the match.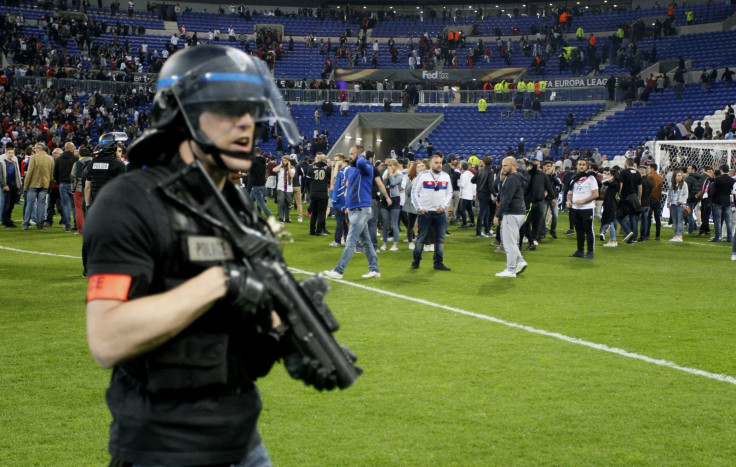 It was feared before the match that the game could be used for a political statement ahead of Sunday's Turkish referendum, which may increase the powers held by President Recep Tayyip Erdogan.
The incidents come after Uefa stepped up security after the Borussia Dortmund team bus was rocked by three blasts on Tuesday (11 April). Defender Marc Bartra was taken to hospital with wounds in his arm following the incident.
Also on Thursday, eight Leicester City supporters were handed four-month suspended prison terms after they clashed with Spanish police in Madrid two days earlier ahead of their Champions League quarter-final clash.