A former detective who investigated the disappearance of Madeleine McCann has said he believes she is still alive.
The toddler went missing from the McCann's Praia da Luz holiday apartment in Portugal almost 10 years ago as her parents Kate and Gerry dined with friends at a nearby restaurant.
The suspected abduction of the then three-year-old sparked an international search and worldwide headlines but the mystery surrounding her disappearance in May 2007 remains unsolved.
Former detective inspector Dave Edgar, 60, who runs Alpha Investigations Group, was hired by Kate and Gerry McCann to look for their daughter and spent three years on the case before the Metropolitan Police took over in 2011.
He said he was certain her parents were not involved in her disappearance and that he was ready to "come back on board" to continue the search.
According to Mail Online, Edgar claimed her kidnapping was orchestrated by a paedophile ring. Her abductor, he added, was being protected by accomplices.
"They have no intention of ever giving up looking for their daughter," Edgar told the Sun. "I believe Madeleine is still alive and the case can be solved. I would strongly consider coming back to help as a private investigator if required.
"In fact, I would be happy to come back on board."
Always hope
Edgar told the Mirror last week that those responsible for taking Maddie would have confessed their part in the crime to someone. "They [abductors] can't keep it to themselves. Research has shown they always confide in someone else.'
"Until such time that a body is found it is a live investigation and there is always hope."
While theories surrounding her disappearance have focused on a meticulously planned abduction by a paedophile ring or an opportunistic kidnapping by a lone predator, Edgar had earlier said that he believed Madeleine may be held captive in an underground cell or dungeon much like the victims of Josef Fritzl.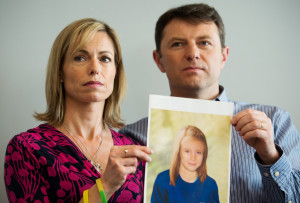 Officers have investigated more than 60 people and a total of 650 sex offenders have also been considered. Two key suspects, paedophile Raymond Hewlett and Euclides Monteiro, who have since died, were ruled out of the inquiry due to a lack of evidence.
In total, there have been reports of 8,685 potential sightings of Madeleine around the world.
In October 2015, the Metropolitan Police reduced the number of detectives working on the case from 29 detectives to four after the investigation into Madeleine's disappearance was scaled down.