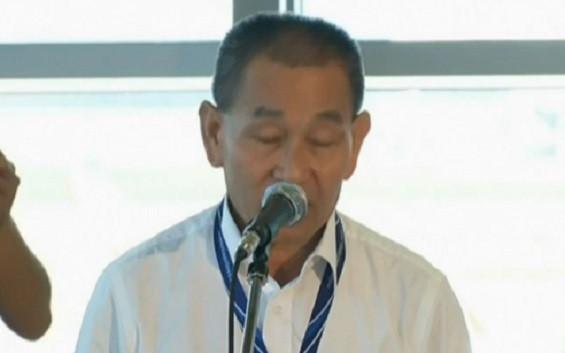 The boss of Malaysia Airlines could lose his job over the text message which informed relatives of passengers on board missing flight MH370 that their loved ones are almost certainly dead.
Chief executive Ahmad Jauhari Yahya faced accusations of gross insensitivity after families were sent a brief message to their mobile phones, informing them their relatives were dead "beyond any reasonable doubt."
It was sent 30 minutes before a press conference on 24 March, during which the prime minister of Malaysia extinquished any lingering hopes that the missing 239 passengers might still be alive.
The text read: "Malaysia Airlines deeply regret that we have to assume beyond any reasonable doubt that MH370 has been lost and none on board survived."
There were scenes of huge distress as stretchers rushed to aid relatives who collapsed in anguish after getting the message. They later condemned it as "shameless" and "misguided" of Malaysia Airlines.
Speaking at a news conference, Yahya admitted the message placed his job in doubt, saying: "Will I resign? It's a personal decision that we will take later."
Yet he claimed the Airline opted for a text message in order to reach relations with the news before they found out from other sources. He insisted sending the texts had been a "last resort."
He said: "Our sole and only motivation last night was to ensure that, in the incredibly short amount of time available, the families heard the tragic news before the world did.
"Wherever humanly possible, we did so in person with the families, or by telephone, using SMS as the last resort of ensuring fully that nearly 1,000 family members heard the news from us and not the media."
The text message followed findings by a London-based firm which carried out high-power calculations showing, to a high degree of probability, that flight MH370 crashed into the Southern Indian Ocean.
The investigation to find out why it did so could take years, the authorities have warned.
An enormous joint international effort has seen an area of two million square miles scoured in search of the missing jet, with the focus now upon a section of the sea where debris has been spotted, 1,500 miles away from the coast of Perth in south western Australia.
FLIGHT MH370 FACTBOX
Flight MH370 took off from Kuala Lumpur International Airport en route to Beijing at 00:41 on Saturday 8 March (16:41 GMT Friday).
About 50 minutes later, the aircraft lost contact with air traffic control.
No distress call was made.
On board, there were 12 Malaysian crew members and 227 passengers from 14 countries. That included 153 Chinese and 38 Malaysians.
Two Iranian male passengers, Pouria Nour Mohammad Mahread and Delavar Syed Mohammad Reza, were travelling on fake passports. Neither had any apparent links to terrorist groups.
No debris from the plane has been found in the international search.
Last confirmed communication with Indian Ocean satellite occurred at 08:11am, meaning plane continued to fly for seven hours after radar signal was lost.
At least 25 countries, including China, the US and Singapore, have now joined in the search for the missing plane.