A woman in New Zealand has urged a Malaysia to take measures against the "extremely short skirts" worn by flight attendants on one of the country's low-cost airlines.
Wellington resident June Robertson, who has travelled to Malaysia twice a year over the last decade, said she had felt "very offended" by the uniform worn by stewardesses on AirAsia flights.
In the letter to a Malaysian senator, Robertson recounted a "terrible" occasion when she saw an AirAsia stewardess' underwear after she bent over at an airport supermarket.
In a separate incident, which unfolded on a flight from Auckland to Kuala Lumpur last October, Robertson asked a flight attendant who was serving her in business close to button up her jacket as she "had her blouse opened and I could see the top of her breasts".
"I find it quite disgusting myself as not everyone appreciates this."
According to the Malaysian Digest, the letter, which was subsequently shared on social meda, was addressed to senator Hanafi Mamat of the ruling Umno party.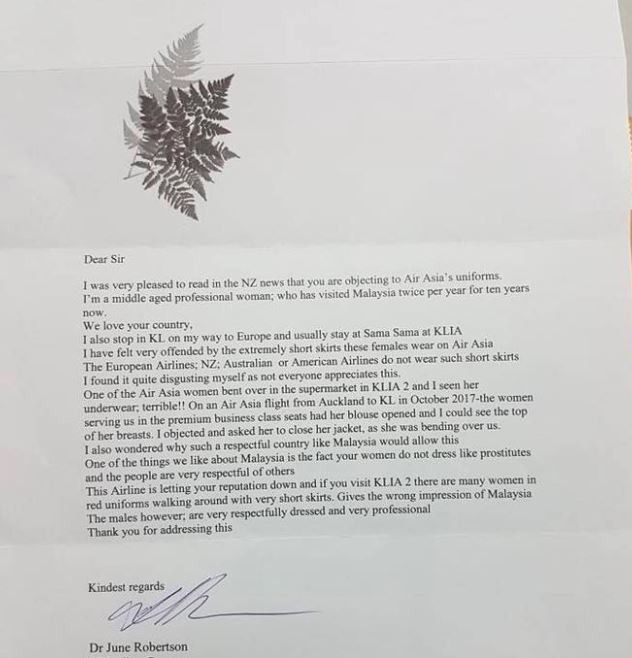 Mamat had already tackled the issue last month, when he suggested the government should introduce shariah-compliant uniforms for flight stewardesses serving Malaysian airlines, in line with the country's Muslim beliefs.
According to him, tourists may get the wrong impression of Malaysia if flight stewardesses dress up "sexily and disrespectfully".
Mamat said the move to redesign the uniform would not hurt the airline companies because their survival depended on delivery of service quality.
"We are proud that Malaysia is an Islamic country with its own cultural identity, but when our flight stewardesses dress sexily and disrespectfully, this will give tourists who use the services of our national carriers the wrong impression," he added.
"The time has come for the government to provide new uniform guidelines which will portray Malaysia as a Muslim country with strong Eastern values."
Senator Abdullah Mat Yasim went a step further and claimed the uniforms of stewardesses on AirAsia and Firefly could "arouse passengers".
He said that the "eye-catching outfits" do not reflect the status of Islam which is the official religion of Malaysia.
"The Malaysian Aviation Commission must really look into this," Abdullah added.