A 62-year-old grandfather and a great-grandmother who was celebrating her husband's 90th birthday are said to be among five victims of the Fort Lauderdale airport massacre.
As of yet only two of the five victims killed by a lone gunman have been named by local news stations after the horrific shooting on Friday (6 January).
The FBI are quizzing 26-year-old Esteban Santiago, a security guard from Anchorage, Alaska, who is the bureau's only suspect so far. Santiago, a former soldier, apparently handed himself over to authorities without struggling after opening fire with a handgun he had brought with him from Alaska at the packed Fort Lauderdale-Hollywood Airport.
At least eight others were wounded in the shooting, which took place in the baggage claim area of the airport, with dozens more suffering minor injuries.
US authorities are expected to charge Santiago with murder imminently.
So far Terry Andres, 62, of Virginia beach, Virginia, has been named by local media amongst the dead as well as Olga Woltering, of Marietta Georgia.
According to the Virginia-based WAVY TV Andres was on holiday with his wife when he was gunned down although she was able to escape from the terrifying ordeal unharmed.
It was reported that he had worked at the Norfolk Naval Shipyard, before retiring, and had volunteered with the local fire department.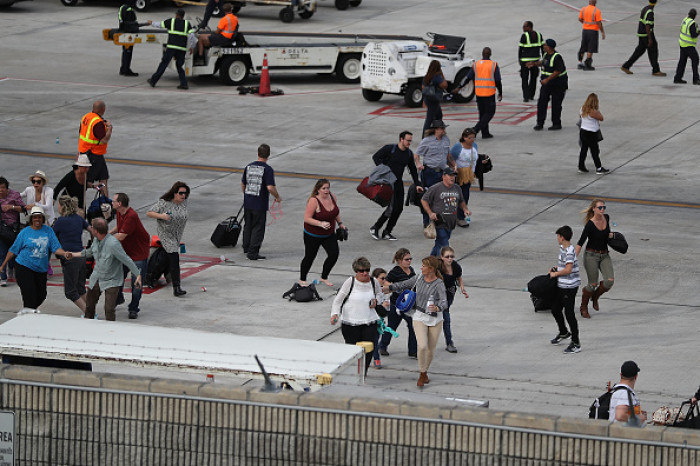 His daughter told the TV station that the family were looking forward to celebrating his 63rd birthday, which was taking place later this month, and he was well-known in the local community.
It has been reported by WSB TV that Woltering was scheduled to leave on a cruise from Florida on Saturday (7 January) with her husband Ralph to celebrate his 90th birthday. They were both members of the Transfiguration Catholic Church and a friend of theirs, Dan Blankowski, urged people on Facebook to pray for her, and her husband who survived the shooting.
The FBI are investigating whether the attack was terrorism related. It has been reported that Santiago had mental health issues and had claimed that the CIA were trying to control his mind and he force him to join the Islamic State (Isis), NBC reports.