Manchester City manager Roberto Mancini has severely criticised his players following the 2-3 derby defeat to Premier League leaders Manchester United. The 164th Manchester derby was decided in dramatic fashion, after Dutch striker Robin van Persie scored a late free kick to silence the Etihad crowd. And the Italian, who is now six points behind Sir Alex Ferguson was particularly unhappy with strikers Mario Balotelli and Carlos Tevez, midfielder Samir Nasri and goalkeeper Joe Hart.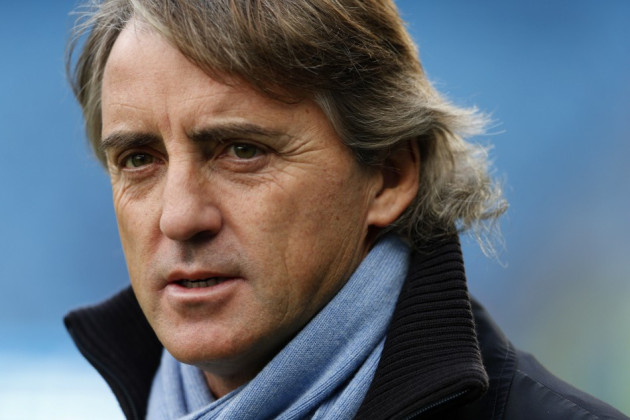 A club insider was quoted by The Sun as saying the former Inter Milan and Lazio boss had an argument with the players in the dressing room after the match and told Hart, England's No 1, "it's your fault". He then criticised Tevez and Nasri for failing to defend van Persie's free kick properly.
"I don't know why. I understood before that the free-kick was dangerous, I don't know why it happened," Mancini said, describing a situation that saw Tevez concede the free kick and then ignore his defensive responsibilities, "The player shooting was Van Persie and he hit it very well. I called Carlos to return to the wall but I was too far away on the bench."
And French international Nasri also received his share of the outburst.
The former Arsenal playmaker did take his place in the wall but for some reason stood behind Bosnian international Edin Dzeko as van Persie took the kick, allowing space for the shot. Worse still, a half-hearted toe poke from Nasri resulted in a big deflection, looping the ball beyond Hart and into the net.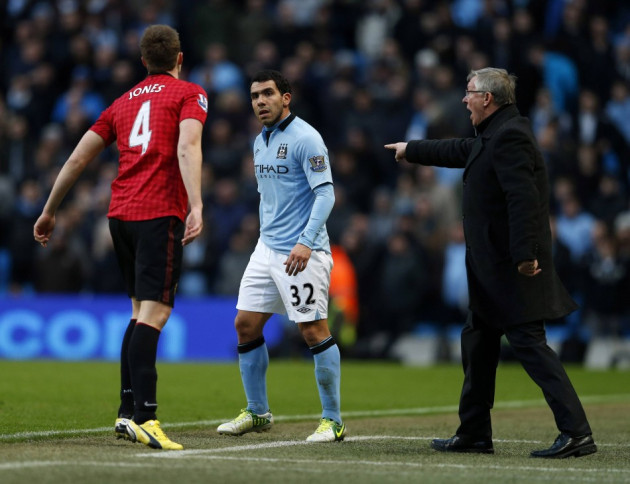 'We made a mistake and only put three players there. Actually we had only had 2½ players there, we didn't cover very well. I think the wall should have been better. I think in the last second we should pay more attention to this situation. If you need to put your face there, you need to put your face there," a clearly unhappy Mancini said.
Finally, Italian international Balotelli received a formal warning from his manager, after reacting badly to his substitution in the second half. The 22 year old was a surprise starter, in place of Argentine international Tevez, but did little to repay his manager's faith. Indeed, City were trailing to Wayne Rooney's two first half goals and only levelled the match after Tevez came on to the field.
"I love Mario as a guy and a player but it is important for him to start to think about his job. He has everything to play well. We wanted more from him and he cannot play like he played today," Mancini concluded.
City will now travel to St James' Park to face Newcastle United on 15 December, while United entertain Sunderland at Old Trafford on the same day, in the next round of Premier League games.