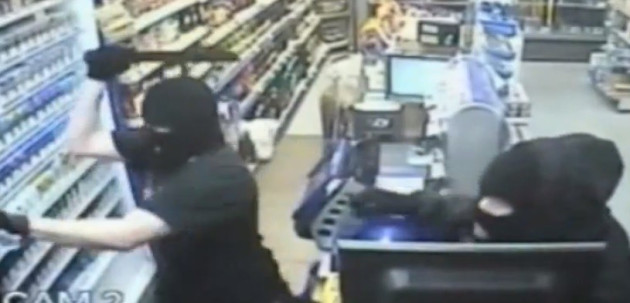 Police are appealing for witnesses after a shop worker almost had his finger cut off during a violent robbery in Greater Manchester.
The 22-year-old was working at a convenience store in Chadderton, Oldham when three men burst in on 20 April. One was armed with a samurai sword and a second with a hunting knife.
As the men began to steal money from the till, they swung the weapons at the two men who were working at the shop on Coalshaw Green Road.
During the altercation, the sword was swung towards a 22-year-old man, who raised his hands to defend himself, only for one of his fingers to be badly cut. It was almost cut off and has had to be stitched back on. He continues to recover in hospital.
His 24-year-old colleague had his Rudrashka necklace prised off him and was slashed to the forearm and back with the knife. The attack left him needing three stiches to his arm, and the necklace is of significant value as he is a practising Hindu.
Det const Richard Whiting said: "This was a violent and reckless robbery carried out by three young men who were out of control.
"The injury that one of the men suffered to his finger was horrific, yet it is fortunate that nobody was more seriously hurt, such was the threat that came with these dangerous weapons.
"I would appeal to anyone who may have seen the offenders entering or leaving the shop to call us, and we also ask that anyone who may have information about this offence call us.
"Robberies of this nature are rare and we are determined to catch the people responsible."
The suspects are described as white men in their late teens to early 20s, in dark clothing. The man with the Samurai sword was wearing a dark Adidas T-shirt with a motif on the front.
Anyone with any information is asked to call police on 0161 856 8825 or 0161 856 4553, or call the independent charity Crimestoppers anonymously on 0800 555 111.