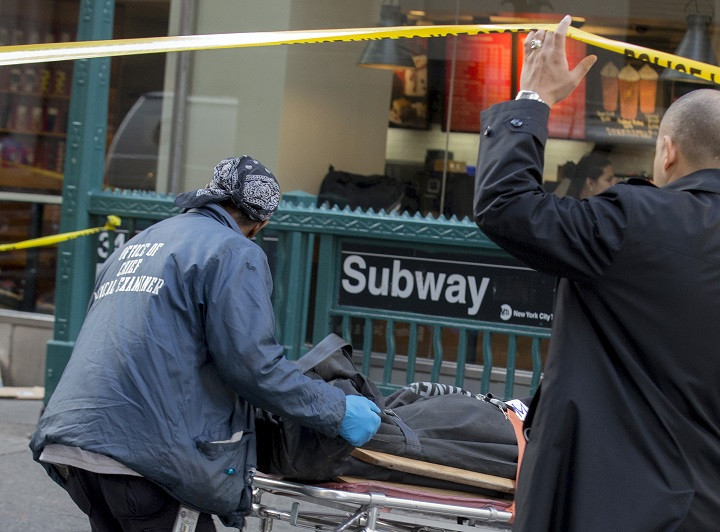 In what appears to be a drug deal gone wrong, an unidentified shooter opened fire at three men at the entrance of a subway next to the Pennsylvania Station in Manhattan, New York, killing one and injuring the other two. The police are still looking for the shooter and two other men accompanying him who are still on the loose.
"There was an argument in the nearby McDonald's between several individuals who were sitting having coffee when another individual with a black hoodie approached them, made some conversation and then left. We believe the man with the black hoodie to be the shooter," said Chief of Detectives Robert Boyce of the New York Police Department. The NYPD also issued a lookout for the shooter and the two other men on Twitter:
The deceased was identified as 43-year-old Angel Quinones who was shot in the neck and stomach along with 45-year-old William Lamboy who was shot in the torso and neck as well and rushed to the nearest hospital where he is currently in a critical state. The third victim, 48-year-old Eddy Torres, was shot in the leg and is recovering with no life threatening injuries. Police said the gunman possibly escaped in a silver-coloured car.
The incident occurred early morning around 6:30 am on Monday (9 November). Police believe the victims, the shooter and the other two unidentified men may have been dealing in narcotics, as the fast food outlet in the area is a hot-spot for drug dealing. This year alone the NYPD has made 52 arrests in front of and inside the outlet.
According to the statements of two men who attend a nearby methadone programme at the West Midtown Medical Group, they knew two of the victims, the one who was killed and the one who was critically injured. They said both victims came to the clinic for years. The police have not yet verified the claim though.
The early morning mayhem in Midtown, that too on a Monday, caused quite a commotion as Penn Station, the main intercity railroad station in New York is one of the busiest in the country. Shooting witness Joe Sarcone, who said he was walking his wife to a nearby clinic, told the Daily News: "This dude just busts out a gun and, 'Pow! Pow! I'm like, What the hell? Is this for real. Whats going on. It's too early for this."