A collaboration between Nottingham's GameCity festival and the British Library will task game design students with turning historical maps into 3D worlds you can explore.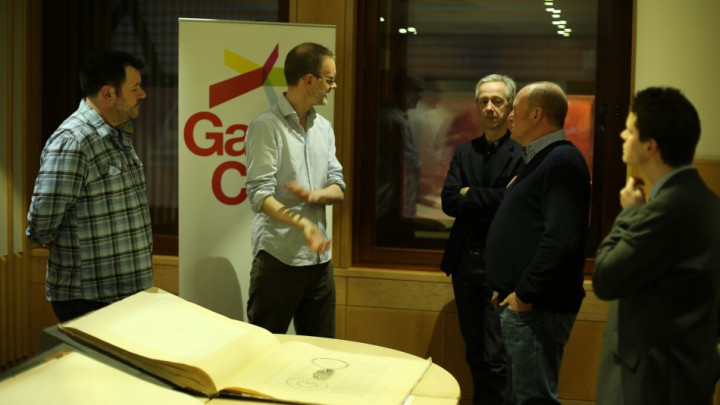 Using CryEngine 3, the cutting edge graphics tech behind upcoming first-person shooter Crysis 3, contestants will rebuild and reimagine plans of the Tower of London, Stonehenge and the pyramids into interactive game spaces.
Entries will be shown around the world at various game and culture festivals throughout 2013, with the competition winners officially unveiled at GameCity 8 in October. Speaking at the project's official launch, GameCity director Iain Simons told IBTimes UK that this was a great opportunity for students to showcase their creative process:
"Everyone working on this is working on it because they want to be surprised," said Simons. "It's not just about rebuilding the maps; it's about how they could be illuminated or rebuilt or reimagined using CryEngine. It's about the bringing together of tomorrow's technology with history.
"We're really interested in starting new conversation within videogames and different parts of culture," he continued. "We've been thinking for a while, and looking around at various design competitions and they seem to be about a certain kind of excellence which is really tethered to making the most awesome game, which is fine.
"But we wanted to try something different, to see if we could move the idea of design competition up to a new level, so it's about the process and the source materials. The opportunity from a student's point of view is not just about the finished product, but also to have their creative journey celebrated throughout the world."
Can it run Crysis?
The CryEngine is renowned as the most powerful graphics technology available, to the point that "can it run Crysis?" has become the benchmark question for gaming PCs. Although the work of Off the Map's finalists will not be displayed until later in the year, several other design projects have used CryEngine to recreate real places in unerring detail.
Students at DeMontfort university in Leicestershire recently created an interactive version of Rosslyn Chapel in Scotland, allowing 'players' to zoom in on sections of the building's architecture and read history about its construction. There is also Enodo, a stunning project by a French design team of the same name to build a living, breathing modern city from the ground up:
Carl Jones, Director of Global Business Development at CryTek, the company that created CryEngine 3, said that Off the Map would prepare students for jobs inside and outside the game industry:
"CryEngine is being used more and more outside of videogaming, in things like architecture and film," said Jones. "So, the guys who are getting used to working with it now will be the future movie-makers and architects - parts of all kinds of different industries that use 3D applications instead of the old linear movies."
The British Library has provided dozens of architectural plans and historical views to inspire contestants. Particularly impressive is a map of London just after the Great Fire in 1666, which shows much of The City destroyed and features plans for new streets and buildings.
Conceptual and interpretive maps are also available to students to provide a basis for reimagining famous locations rather than just rebuilding them. One map displayed at the launch featured an isometric view of the pyramids but with a forest around them; another detailed an abandoned plan to put the stones at Stonehenge back together.
Tom Harper, Curator of Cartographic Materials at the British Library, told IBTimes UK that the areas were specifically chosen to be challenging and self-contained:
"We understand places through drawings and texts - this is our reality of the world around us," said Harper. "We have 4.25 million historical views available at the British Library dating from 15 AD right up to 2013... There is enormous scope in the project and we really hope that comes out in the results.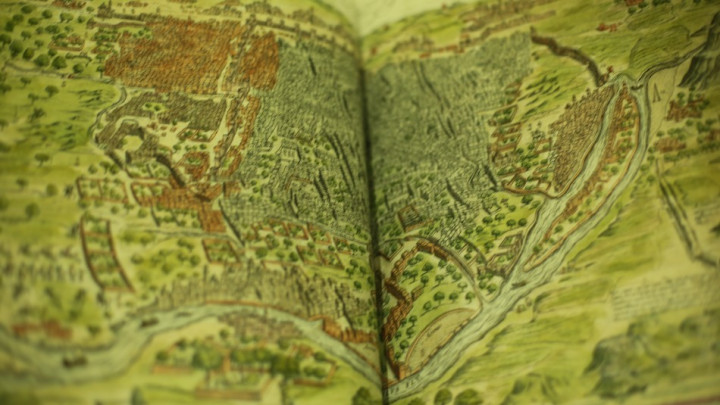 "We decided to choose three specific sites for the competition: Cairo, the Tower of London and Stonehenge," continued Harper. "These are perfect for a project like Off the Map because they're very contained places - not too big, not too small - and they have a mixture of natural and manmade features.
"The British Library's resources are free to access for anyone and we're really excited to see them being used in this way. It's exactly what these maps are meant to do."
Historical locations have become increasingly prevalent in mainstream videogames over the past five years. The original Assassin's Creed sent players back to the Holy Lands in the midst of the Crusades, and the series has since featured Renaissance Italy and Revolutionary America as respective backdrops. Rockstar Games, too, has worked on recreating the past, both in its downbeat Western Red Dead Redemption and post-World War 2 cop drama LA Noire.
In 2012, Dishonored reimagined Plague-era London; later this year, BioShock Infinite will fantasise turn-of-the-century America.
With the past very much in vogue right now, the opportunity to devoutly recreate a single historical location is something game design students will relish. Off the Map will allow people to understand historical locations in new ways and expands videogaming's potential as an educational tool.
Iain Livingstone, founder of retailer Games Workshop, and lifetime president of game publisher Eidos, has petitioned the government to teach children to program software. He believes games can be used for learning:
"[Off the Map] shows games technology as a far-reaching tool for learning. You can use games to teach mathematics, you can use them as a training tool for pilots or the armed forces or surgeons.
"If we put computer science onto the national curriculum it will enable people to be digital makers. At the moment we teach children to use office programs like Word and Excel but we don't teach them to create; we teach them to read, not to write. By giving people skills like coding they will able to better interpret the world."
GameCity 8, where the winners of Off the Map will be displayed, will be held in Nottingham in October, 2013.