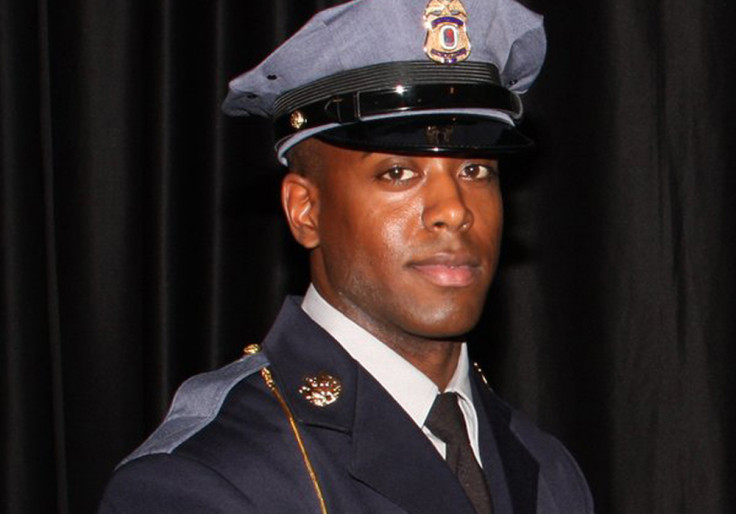 A police officer died in a shooting outside a Maryland police station on 13 March in what is being considered an "unprovoked attack." Jacai Colson, the 28-year-old narcotics officer, succumbed to gunshot wounds when an unidentified individual opened fire on Landover police station in Prince George's County on Sunday afternoon. Colson was a few days shy of his birthday.
Speaking at a news conference, Prince George's County police chief Hank Stawinski explained that once the shooting started, officers rushed out of the station and started firing back at the attacker. "Those officers did not shrink. They bravely advanced and engaged this individual," he said of his men.
"The preliminary investigation reveals a suspect opened fire outside the front doors of the station around 4.30 pm. POFC Colson returned fire. Colson was shot and died a short time later. The suspect was also struck," The PGPD News blog stated.
The alleged shooter, who was injured in the firing, was taken to a nearby hospital. He is now stable and in custody along with another suspect who had reportedly accompanied the shooter. An investigation into the attack will take place with assistance from the FBI and the Bureau of Alcohol, Tobacco, Firearms and Explosives.
The police department posted a message on Twitter stating: "One of your defenders lost his life in defence of this community today. This was an unprovoked attack."
"Shocked and saddened by the news," Maryland Governor Larry Hogan said in a statement, "It is my hope that his proud legacy of commitment and passion for law enforcement and serving others will provide some comfort in the difficult days that lie ahead."
The Washington Post reported one witness as having seen a man dressed in black, wielding a gun. Lascelles Grant, a nurse told the paper, "He fired one shot, and then he started pacing back and forth, then fired another shot. Just looking outside, I'm like, 'Oh my God, look at all these police officers running out, putting their lives really in danger.'"