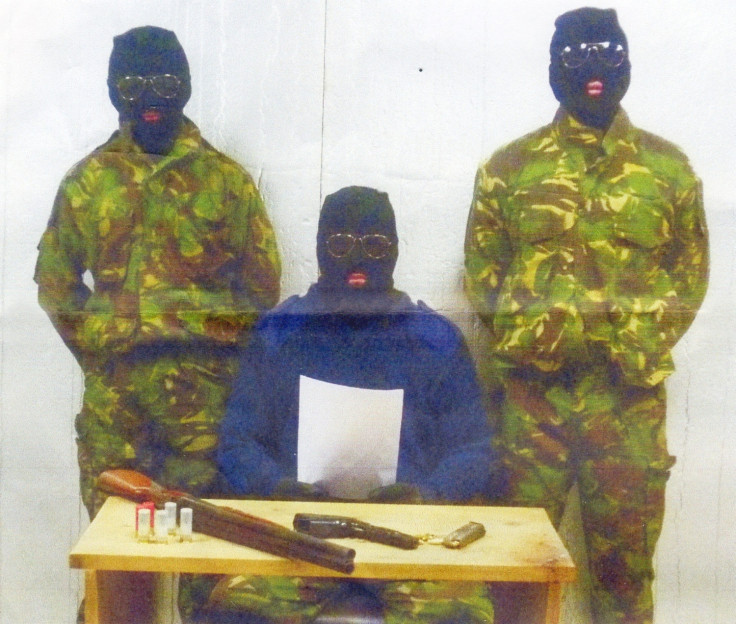 A suspected paramilitary organisation in Omagh, Northern Ireland, has warned drug dealers they will be executed or maimed after accusing them of "destroying young peoples' lives".
The chilling threat was delivered to the Ulster Herald newspaper on Tuesday, with six local men named as potential targets.
The statement was accompanied by a picture of three individuals wearing combat fatigues and balaclavas. They can be seen behind a table bearing a double barrelled shotgun, a pistol and ammunition.
The Ulster Herald reported that the group had warned it is willing to go to "extreme lengths" to stop drug dealing in the local area, including resorting to "knee capping and executions if necessary".
"We are an organisation taking action against all drug dealers," the statement from the group read. "At this point we are not willing to disclose the organisation we are acting on behalf but we are taking it upon ourselves to put an end to the drug dealing within our community.
"The drugs that are in circulation are destroying young peoples' lives and are the ruination of our community. In order to stop this we are willing to go to extreme lengths such as integrations (sic), knee capping and executions if necessary."
The six men named as targets by the anonymous group have reportedly since been visited by police and warned of the threats against their lives.
The message comes after 19-year-old Emma Doogan became the latest drug-related death in Omagh after a suspected overdose at a flat in the Strathroy area on 19 August. Her boyfriend has since been arrested and faces 10 charges, including supplying illegal drugs.
The threats made against drug dealers were condemned by Sinn Fein councillor Marty McColgan.
"I wish to restate my sympathy for the young girl who died and her family, but threats like this aren't the answer to serious drug problems. There's no place in society for self-appointed vigilante gangs. Many of these gangs have been involved in extorting drug dealers and other forms of criminality. The criminal justice system is the only place for drug dealers and gangs. I would urge anyone with information to bring it forward."