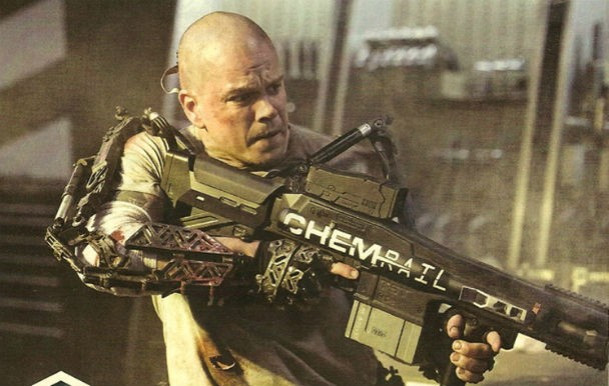 Matt Damon can be seen holding what appears to be a very big gun in the first official picture released from the set of Elysium.
Damon stars alongside Jodie Foster in the science-fiction thriller which represents the next Hollywood effort from Neill Blomkamp, the director of unexpected hit District 9.
Known plot details suggest that Elysium will see Blomkamp continue to explore the themes he touched upon in District 9, as it concerns class battles and social freedom in the near future.
Elysium revolves around the battle for equality fought by the oppressed people on a devastated Planet Earth against the elite class who orbit the planet aboard a space station after which the film is named.
Damon plays Max, an ex-con who lives on Earth, while Foster plays a government official who maintains the border between the two lands and classes.
District 9 saw aliens come to Earth and form an underclass, allowing Blomkamp to address the issues of apartheid and racial division, while in his new film he seems to be tackling the ever-increasing gap between the haves and have-nots and the inevitable conflicts that this will foster.
As deep as all that sounds, Blomkamp is not expected to skimp on the action. District 9 saw the special-effects expert take a relatively small budget a long way with some spectacularly staged action scenes.
The Elysium image also gives a glimpse of a strange exoskeleton that Damon's character appears to be wearing, although whether it will provide him with augmented abilities is not known.
District 9 star Sharlto Copley is also on the cast for Elysium, along with the reliable William Fichtner and Wagner Moura, who found international fame with his performances in the Elite Squad films.
Last year saw Elysium embark on a viral marketing campaign, with posters for fictional company Armadyne appearing at Comic Con. The company website features a fake recruitment video asking for applicants with experience in "quantum networking and zero-g welding" to "take mankind into the future".
Elysium will be released in March 2013.