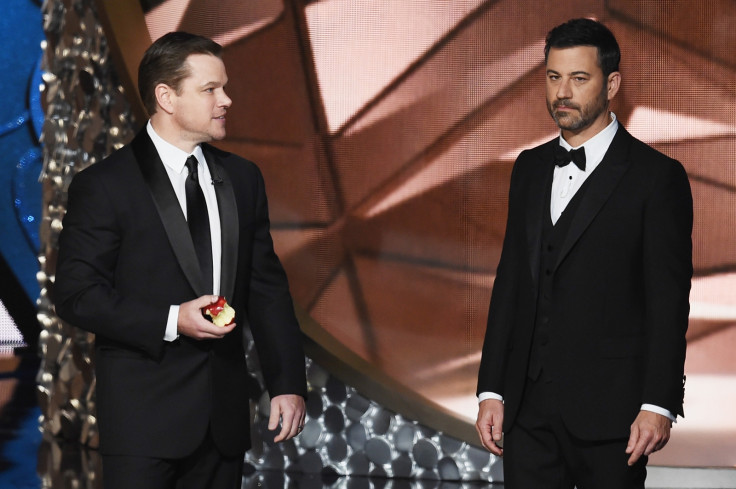 The prolonged "feud" between Jimmy Kimmel and Matt Damon is set to take a hilarious turn during the upcoming Academy Awards 2017. The practical jokes between the celebrities have offered loads of laughter to their fans but it seems Oscar audiences are in for a bonus during Hollywood's big award night.
The Martian actor has teased that he may roast the Oscars show host on 26 February and predicted that his fake nemesis will be a "terrible" host. "I don't think I need to do anything to make his performance worse. He's gonna be really terrible no matter what," Damon told E Online.
Both Kimmel and Damon have been playing up their "feud" for years and every time the duo fought on-screen it has been a laughter bonanza for the audience. They continued their fake fight during the 2016 Emmys where the Great Wall actor roasted the talk show host on-stage for not winning the best talk show host award.
The 46-year-old actor recently appeared on the Ellen DeGeneres show and continued his rant against the talk show host. Upon being asked about his thoughts on Kimmel hosting the Oscars, Damon quipped: "My condolences. It's horrible for everybody. It's probably bad for me, too, but I mean, [it's] bad for America."
When DeGeneres said Damon does not have to be mean to Kimmel as he is already "really anxious" about hosting the ceremony, the Academy Award-winning actor unapologetically replied: "He should be. There's going to be hundreds of millions of people watching and hoping that he messes up. I'm going to be there a few rows deep hoping that he messes up. I might even throw things at him."
When Ellen asked him if he would really throw objects at Kimmel on-stage, he answered, "There's better than a 50/50 chance".
The Bourne Identity actor has definitely played his part in the historic fake fight. It remains to be seen how the duo will live up to fans' expectations and if there will be a word brawl between the two during the Oscars award ceremony.