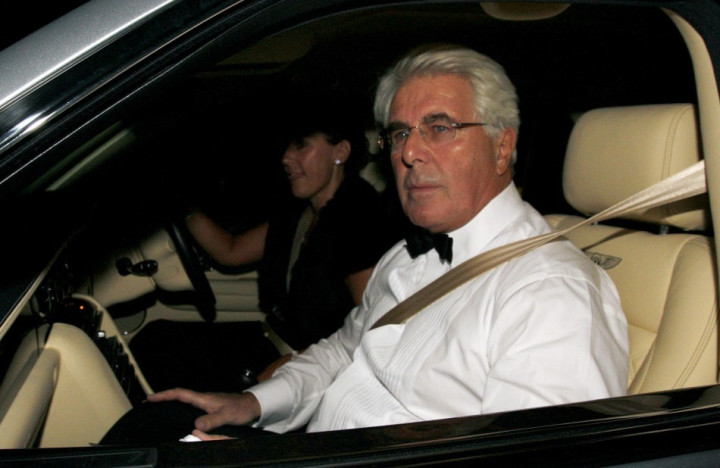 Max Clifford has been arrested on suspicion of sexual offences in relation to the Jimmy Savile sex abuse inquiry, according to ITV.
The controversial high-profile publicist, who has represented celebrities such as Jade Goody, Freddie Starr and Simon Cowell, was taken to a central London police station after being arrested at 7.40 this morning.
A police statement said: "Officers working on Operation Yewtree have this morning, Thursday 6 December, arrested a man in his 60s [Yewtree 6] in connection with the investigation.
"The man from Surrey was arrested on suspicion of sexual offences and has been taken into a central London police station."
Clifford's arrest falls under the part of the Operation Yewtree investigation termed "Others".
He is the latest celebrity to be arrested in relation to the investigation. Freddie Starr, Gary Glitter and DJ Dave Lee Travis have been arrested and released on bail.
Clifford represented Starr in 1986 after the story 'Freddie Starr Ate My Hamster' appeared in the Sun. It emerged that the story was a fabrication in order to get Starr publicity.
In October, Clifford said he had been approached by some 15 celebrities worried that their names would be dragged into the scandal.
"They are saying they did nothing wrong but are just being naturally cautious," he said. "They want to know if I hear their names are being dragged into it all.
"I am hoping that the real predators are the ones we are going to find out about: the Glitters of this world, the Saviles of this world, not people that were randy young pop stars."
Stuart Hall Charged with Indecent Assaults of Young Girls
Berkshire Octogenarian Quizzed over Jimmy Savile Sex Allegations
Dave Lee Travis is Latest BBC Star Arrested in Savile Sex Abuse Probe
Jimmy Savile Scandal: How Disgraced Star became History's Most Prolific Sex Offender