McDonald's sees US sales fall 2.2%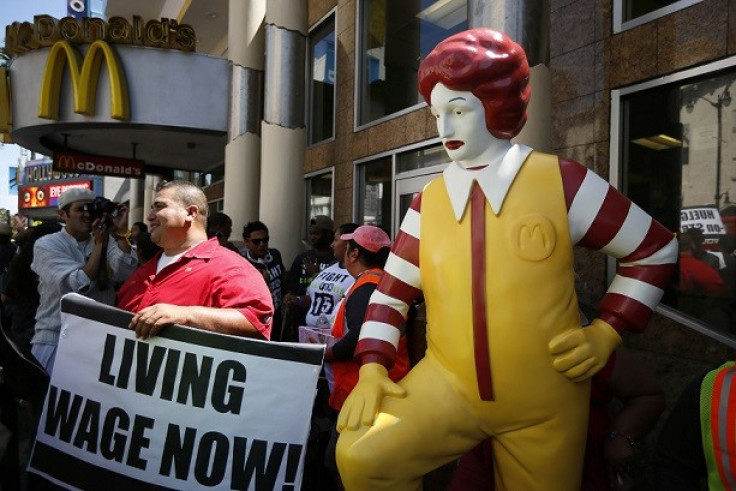 Fast food chain McDonald's reported a 2.2% decline in sales in its key US division in May compared to the same period in 2014.
McDonald's said its worldwide sales declined by 0.3% in May, but still beat expectations.
Sales in Europe were up 2.3%, while Asia/Pacific, Middle East and Africa was down 3.2%.
"McDonald's has embarked on a turnaround plan to reignite our business performance," said Steve Easterbrook, president and chief executive officer.
The burger seller said it will address the sales drop in its backyard by "working to enhance the customer experience with exciting limited-time menu and value options while testing opportunities to expand convenience, personalisation and daypart availability to modernise the business".
It said the UK was strong, while "slightly positive performance in Germany and France were partly offset by slightly negative results in Russia".
"In APMEA, comparable sales declined 3.2% in May as strong performance in Australia was more than offset by continued challenges in Japan and negative performance in China. Strengthening McDonald's quality and value perceptions remains a top priority for APMEA," said the company.
Solid comparable sales in McDonald's Other Countries & Corporate segment, which includes Latin America and Canada, contributed positively to the Company's global comparable sales performance for the month.
Systemwide sales for the month decreased 7.2%, or increased 1.8% in constant currencies.
The declining sales called for a massive turnaround in the company, which was announced by chief executive Steve Easterbrook in May 2015, when he published a 23 minute-long video focused on improving the form's fortunes.
"Our recent performance has been poor. The numbers don't lie," Easterbrook said in the video.
"We must make our scale count by simplifying and getting closer to markets. Less layers and bureaucracy, more listening agility and speed on the customer agenda," he said.
The company's restructuring will be divided in its four geographic areas and will include the refranchising of thousands of individual restaurants.
McDonald's has seen its sales fall for six quarters and a survey after a summit organised by the company showed that its relationships with franchisees is at an all-time low, as they feel like they are not being respected by McDonald's.
Employees protesting for better pay around the globe hasn't helped McDonald's image.
© Copyright IBTimes 2023. All rights reserved.