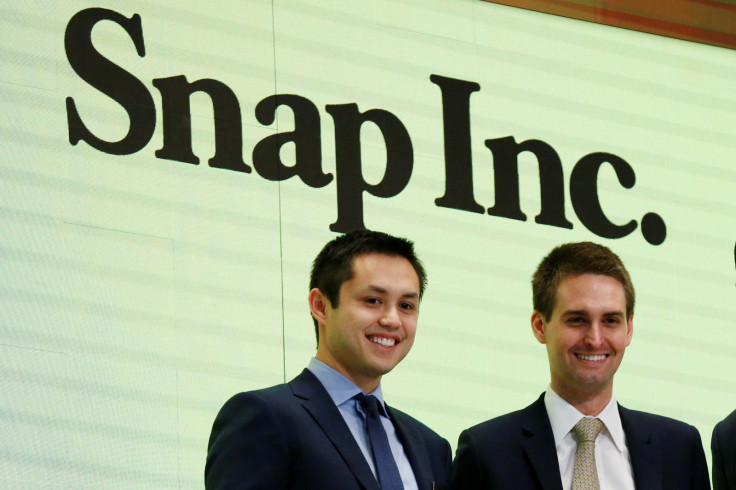 Snapchat's parent company Snap and its overwhelming IPO response have been the talk on Wall Street since the firm's debut at yesterday's (2 March) trade. The two young tech founders under 30 have joined the billions club as they rake in close to $5b (£4bn) each post the IPO.
The stake that founder Evan Spiegel, who is Snap's CEO, and co-founder Bobby Murphy will have in the company is more than what Facebook offered for the entire company back in 2013. Spiegel had then turned down Facebook CEO Mark Zuckerberg's offer of $3bn for the firm. The individual gains of the two founders from the IPO now stand at much more than Zuckerberg's offer.
So, who are these two young entrepreneurs? While Spiegel may have featured on tabloids following his engagement with former Victoria's Secret angel Miranda Kerr, there is much more you need to know about him as well as Murphy.
Evan Spiegel
Spiegel was born in Los Angeles, California, to lawyer parents Melissa Ann Thomas and John W Spiegel. He had an interest in arts and design and wanted to study its applications based on technology.
While still at Stanford, he co-founded Snapchat with Murphy and Reggie Brown in 2011. He was only 21 at that time. A year later he dropped out with just three classes to go before he could earn a degree, to focus on Snapchat.
Along with Murphy, he went on to establish Snap Inc with Snapchat as their main product — it was initially called Picaboo. He has been the CEO of the company since then, which banks mostly on Snapchat. The company makes money from ads on this platform and content created by third-party channels such as news organisations and content creators.
Spiegel is already a billionaire and was ranked 854 on the Forbes 400 list having wealth worth $2.1bn in 2016. Forbes estimates that both Spiegel and Murphy's net worth post the IPO will be nearly $4bn. But that estimate is based on the company's IPO price of $17 per share and Snap opened at a post public offering price of $24 a share. The two agreed to sell 16 million shares in the offering, and still own over 210.9 million shares each.
Their 210 million shares alone are worth $5.06bn based on the opening price, according to CNBC.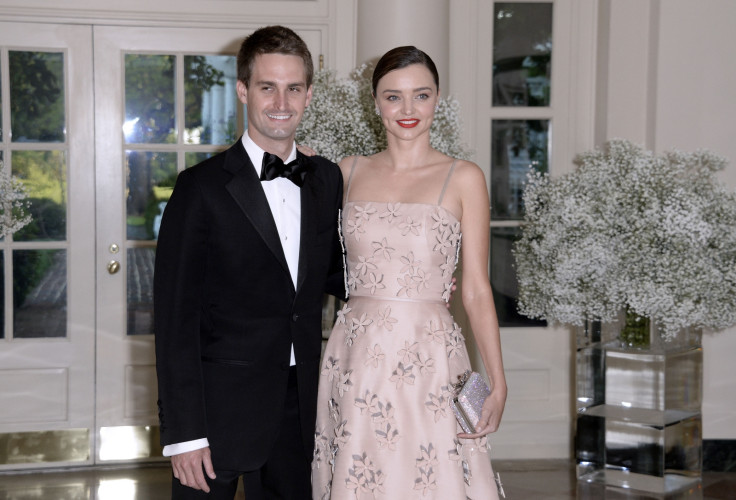 A very private person, Spiegel has been in the news for dating former Victoria Secret's angel Miranda Kerr. He got engaged to her in 2016.
"He's 25, but he acts like he's 50," Kerr said in an interview with Net-A-Porter. "He's not out partying. He goes to work in Venice Beach, he comes home."
Bobby Murphy
Like Spiegel, Murphy was born in California too. His parents Rosie L Murphy and Richard Cornelius Murphy Jr were government employees. He is of Filipino and Chinese descent from his mother's side, and part English, Scottish and Irish on his father's side.
Unlike Spiegel, he completed his Bachelor of Science degree in Mathematical and Computational Science from Stanford in 2010. He co-founded the app with Spiegel and Brown and later the company with Spiegel. He has been the CTO of Snap Inc from the time of its founding.
Although Murphy was senior to Spiegel, they met and formed a friendship at the Kappa Sigma collegiate social fraternity. Many reports say Murphy is the author of much of the Snapchat app code while Spiegel chalks out the larger strategies of the company and its branding.
Although he is a co-founder of Snapchat, Murphy earned only half of what Spiegel did until 2016. Post the IPO, Murphy's share worth is close to Spiegel's $5bn. Given that Spiegel will take a nominal $1 fee as CEO from now on, they may both end up earning similar amounts.
Murphy lives in LA, a few blocks from Snapchat's headquarters in a home designed by architect Larry Scarpa and artist Randy West and likes to keep a low profile.